'The Thorn' stage production saving young people from suicide ideation, addiction: director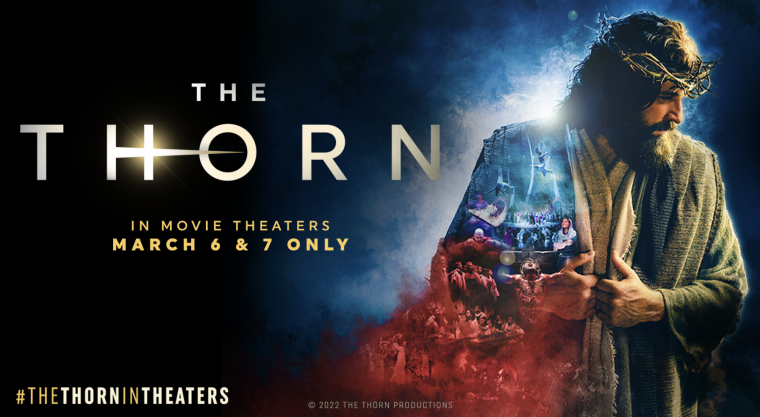 About 25 years ago, while serving as a youth pastor in Colorado, John Bolin had what would turn out to be a life-changing encounter with a young woman. 
"There was one Wednesday night after a youth meeting, I'm sitting on the edge of the stage. And this 16-year-old girl is sitting next to me and she's bawling, and she holds out her arms and I could see where she'd been cutting up her arms," Bolin told The Christian Post. 
"And so I turned to her, and I said, 'You don't have to do that, because Jesus did that for you.'"
That encounter sparked something inside of Bolin: "I thought, next Wednesday night, we're going to do an illustrated sermon, and we're going to communicate two things: Number one, is the price that Jesus paid for high school and college kids. I didn't want it to be gratuitous, but I wanted it to be visceral and real. ... And number two, I wanted them to understand that there is a spiritual battle for their choices, their identity and their calling."
What followed was "The Thorn," a live, theatrical portrayal of the life, death and resurrection of Jesus Christ. Described as "'The Passion of the Christ' meets Cirque du Soleil," the stage production combines martial arts, aerial acrobatics and emotionally powerful performances to bring the story of Jesus to life. 
Initially, the production was held at Bolin's church — and the response was incredible. 
"That first Easter we did 'The Thorn,' there was almost a quarter mile of cars that couldn't get into the parking lot. They closed the gates of the parking lot; cars were parking on the field, and people were crawling under the barbed wire fence to get into the church to watch this production," Bolin recalled. 
Over two decades — and some professional honing — later, the production is as popular as ever. Now seen by over a million people, "The Thorn" includes a large-scale cast of professional and volunteer performers who travel to cities across the country to bring the story of Christ to the stage. 
Bolin said he's always humbled and amazed by the stories he hears from those who've been impacted by the play; stories of people accepting Christ to experiencing deliverance from suicide ideation, addiction and mental illness. 
"There was one time in Denver, we were at the Magnus Arena, and one of the Denver Broncos running backs ran to the cross and just about knocked it over; he was bawling. And just the encounter with the Lord that happened there at the cross was powerful," Bolin recalled. 
"Numerous times, we've seen the magnets on the cross that said, 'I was going to commit suicide tonight. But now I'm not.' We've seen God deliver people from depression, from addiction. We've seen healing happen, we've seen certainly emotional healing, physical healing, marriages coming together again, people just encountering God in a way they haven't before," he said. 
And now, the production will reach even more souls with the truth of the Gospel. The production hit the big screen for a special two-day Fathom event on March 6 and 7, and, beginning March 27, will be available on the Virtual Cinema Event website and through various streaming platforms. 
"This is a way for people across the country that have never been to a 'Thorn' live performance to experience it, and it's a way for the story to travel across the world," Bolin said.
"It's really exciting to think of the story of God being told in this really imaginative and different way using the performing arts and for people across the world to be able to experience it — that's humbling. And it's something that really only God could do. I would never have seen this coming even two or three years ago, and for sure, not 20 years ago."
Though the stage production of "The Thorn" features a narrator, the theater version instead features an old John the Beloved telling the story of Jesus to a 12-year-old slave boy named Asher through a series of flashbacks. 
"It's like this roller coaster because the narrator makes you laugh and the scenes make you awestruck with just this breathtaking beauty — the performing arts quality — and then, of course, the passion moments themselves are deeply moving and hard sometimes to watch," Bolin said.
Like the stage version, the director said he's seen God's fingerprints all over the big-screen adaptation of "The Thorn." When COVID-19 hit in 2020, the production "went totally dark," Bolin said, as people were forced to stay at home, locked down for several months. 
"I remember feeling, 'Well, maybe it's over,'" he said. 
But after seeing Dallas Jenkins' "The Chosen" hit theaters for a Christmas special in 2021, Bolin thought that maybe "The Thorn" would be able to find a home in theaters too. 
"So we talked to Fathom and Fathom said, 'Yeah, we think it would be a great Fathom event. … In fact, Katie, Katie Sawyer over at Fathom, said, 'John, we've been trying to get ahold of you for several years to bring 'The Thorn' to Fathom," Bolin said. "God has really opened the doors for this film … we've really felt like God's calling us to tell the story in the public square."
Bolin said the success of projects like "The Chosen" and "The Thorn" is evidence that God's hand is on projects that glorify Him — and that people are thirsty for content that uplifts and encourages them, especially as secular content grows darker. 
"During the Renaissance, Christians led the way in the arts, from architecture to fine art, to music, across illuminated manuscripts," he said. "And then somewhere along the way, we sort of like gave that mantle over, we gave leading the arts over to secular people. And so I think there's an opportunity for us as the Body of Christ to not just tell stories, but to tell great stories and to do them at a high level."
"God is the architect; when He comes in, when He decides to make something work, it doesn't matter. There's nothing we can do to stop it, and there's nothing we can do to make it happen. When He comes into the equation, it's up to Him to do His work; we just have to be faithful with what we have."
Bolin, a father of five teenagers, expressed hope that "The Thorn" will reach those who would never darken the door of a church. He's seen firsthand how the story of Christ's life, death and resurrection has changed lives — and he's excited for even more people to experience the truth of the Gospel through excellent art. 
"Because we created ['The Thorn'] for high school and college students, that's still the category that likes it the most,'" Bolin said. "I'm always aiming at the 20-somethings; if we can make the story of God engaging, where a 20-something will lean in and say, 'This isn't cheesy; this is really interesting and exciting and something I wouldn't be embarrassed to invite my friends to' — that's a win for us."
"We see especially young people, but people of all ages that experience the story and say, 'OK, I've gone back to the cross for the first time, or the first time in a long time,' and that's worth everything to us."
For movie theater listings and tickets, click here. Watch the trailer for "The Thorn" below.