These 2 Things Cut Crime, Prison Recidivism Rates in Half, Says Criminal Justice 'Champion' Gov. Sam Brownback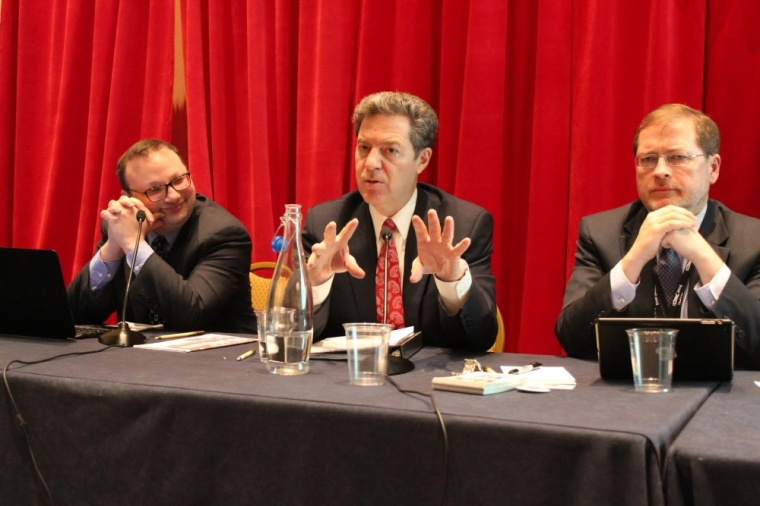 NATIONAL HARBOR, Md.— Appearing as a guest speaker on a criminal justice reform panel at the Conservative Political Action Conference on Friday, Kansas Republican Gov. Sam Brownback explained how Kansas' provision of mental healthcare and private mentors for its prisoners have played a significant role in cutting the state's prison system recidivism rate in half.
Brownback, who was elected governor in 2010 after serving as a U.S. senator, told the audience that reducing states' crime rates and corrections spending can be easily accomplished if state prisons provided more to their prisoners than just a place to live and food to eat until they're released back into society.
"I think we have gotten stuck in the old mantra that 'If you do the crime, you do the time,'" Brownback said. "When I first ran [for Congress] in the 1990s, that is one of the mantras that I put up. The problem of it was that at some point in time you find that [the time] is done then you got a guy coming out and we were having 60 percent recidivism rates. That is what we were having in our state — 60 percent recidivism rates."
Fed up with the high rate of criminal relapse, Brownback, who has long been considered a "champion" of criminal justice reform, implemented two key changes that've been imperative to reducing Kansas' recidivism rate from 60 percent to about 30 percent.
Brownback stated that since a majority of offenders have some sort of mental health, drug or alcohol abuse problem, those issues need to be treated in order to give the offenders the best chance at staying out of prison.
"If you have a guy who has a mental health issue and you arrest him and put him in jail, do you think he is going to be doing better with his mental health issue when you put him in jail?" Brownback asked. "Probably not. This will probably exacerbate the situation. We are trying to get them in a situation that is less confrontational and works more with the problem that the individual has."
Even though several mental health institutions have been shut down in the last 30 years, Brownback explained that Kansas has established mental health wards inside prisons that are geared to provide offenders with the mental health or drug rehab therapy they need in order to help them transition appropriately when they're released back into society.
"We got 37 percent of people incarcerated in Kansas have a mental health issue. If you add that to substance abuse, it is nearly 60 percent or little more of people incarcerated that have those two or one or both of those issues going on in their life," Brownback continued. "What we have started doing is setting pieces aside of prisons for mental health wings."
Brownback further noted that the state's also starting to send more offenders to halfway facilities instead of prison to help them get the treatment they need.
"We are also now having places where a person is incarcerated or arrested for doing something, instead of taking them to the jail, we are taking people to halfway facilities that deal with mental health or drug and substance abuse," Brownback said. "That will help reduce repeat offenders."
The second initiative, which has a real statistical tie to the state's reducing recidivism rate, is the provision of private mentors to help offenders transition back into society successfully.
"That means a personal, private mentor for everybody that wants one that is coming out of a Kansas prison," Brownback asserted. "We got about 6,000, mostly men, out [of prison] per year and we got just a little over 4,000 private mentors."
Brownback added that the recidivism rate for offenders who have a mentor is at just 9 percent.
"The key is that you got to have a good match. We organize that. You got to have somebody on the outside with a good heart and wants to do good for the community. You need to have a match before the guy leaves prison," he emphasized. "You need to have a match at least six months before he comes out so that they can start building that relationship. They have got to be somebody that 24/7 is available because we all have problems."
Brownback also said that he wants to be able to use welfare reform dollars to help reduce the likelihood that Kansans will end up in jail by providing them with personal coaches in high school and helping younger children attain expected literacy levels.
"I want to get us welfare reform dollars to help people graduate from high schools. If you graduate from high school, your likelihood of going to prison goes down," Brownback said. "We are also taking welfare dollars to improve our fourth grade reading levels because another marker is if you don't read by the time you are in fourth grade, your likelihood you are going to prison goes up as well."
Other states have also started championing criminal justice reform. In 2007, Texas instituted a plan to use drug treatment and incarceration alternatives to help the low-risk and nonviolent offenders without having to incarcerate them. Texas' crime rate is the lowest it has been since 1967.
"I think that has given us the credibility to go to other states and follow what Texas has done," Marc Levin, policy director of the Texas Public Policy Foundation's Right on Crime project, said at the panel. "Thankfully, conservative governors have been the ones stepping up to the plate and leading the charge."
South Carolina, Ohio, Georgia, Kentucky, Oklahoma, Missouri, Pennsylvania and Mississippi are other states that have instituted similar criminal justice reforms.