#ThingsJesusNeverSaid Trends on Twitter as Christian Liberals, Conservatives Mock Each Other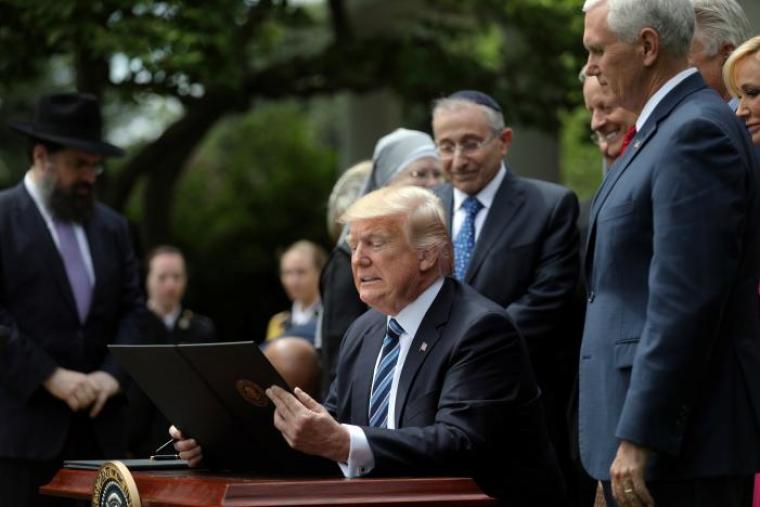 Liberals and conservatives in America took aim at each other on Twitter over the weekend with the #ThingsJesusNeverSaid hashtag, trying to position where Jesus Christ would really stand on a number of broad issues affecting the country.
Much of the discussion around the hashtag, which trended worldwide on Friday and Saturday, was centered around liberals upset at the U.S. House of Representatives passing legislation last week aimed at repealing and replacing Obamacare.
Some prominent Christian voices, such as James Martin, a Jesuit priest and editor-at-large of America magazine, suggested that repealing Obamacare stands in opposition to Jesus' commandments to help the sick.
"Blessed are those who make it harder for the sick to heal," Martin wrote on Friday under the #ThingsJesusNeverSaid hashtag, adding ""Blessed are those who treat the poor like an afterthought."
Katie Henry similarly expressed: "'Sorry, I would heal you, but leprosy is a pre-existing condition.' #ThingsJesusNeverSaid."
Others, such as Catholic libertarian Emily Zanotti pushed back, however.
"It totally counts as compassion if you let the government pretend to care for the poor," Zanotti wrote, under the same hashtag.
Conservatives such as Matt Walsh argued that Christ would not support the liberal stance on abortion.
"'Sure, you can totally kill babies. No problem.' #ThingsJesusNeverSaid," he positioned.
Author and screenwriter Andrew Klavan added: "'Before I formed you in the womb I knew you, but before you gestated for nine months you weren't a human being.' #ThingsJesusNeverSaid."
The sarcastic exchanges back and forth continued on a number of other topics as well.
"They bring in drugs, they bring in crime, they're rapists. I assume some are good people," JJ Gills wrote as part of the hashtag, alluding to President Donald Trump's perceived attitude toward Mexican people.
"'Love your enemies...unless of course your country calls upon you to kill them.' #ThingsJesusNeverSaid," theologian Greg Boyd tweeted.
Conservatives continued focusing mainly on pro-life sentiments.
"'Do not murder. Well, except for babies that have yet to be born, for they are merely a lump of cells. So, that's fine.' #ThingsJesusNeverSaid," Zach Swaim wrote.
"#ThingsJesusNeverSaid women should have the right to choose to kill their babies," added Jeb Sanford.
Others, such as Jim Morgan of Meet The Need, a non-profit that says it brings the world of local missions into the 21st century, suggested that Christ would be neither a Republican or a Democrat.
"Jesus wouldn't just vote along party lines or based on a single issue, as so many Christians do today. It's not that simple. A close study of the life of Jesus reveals that His views don't confine Him or conform to one party or issue," Morgan wrote in 2016, offering his take on where Christ would presumably align with on contentious topics.