Thousands to Celebrate Easter at 40th Annual Lincoln Memorial Sunrise Service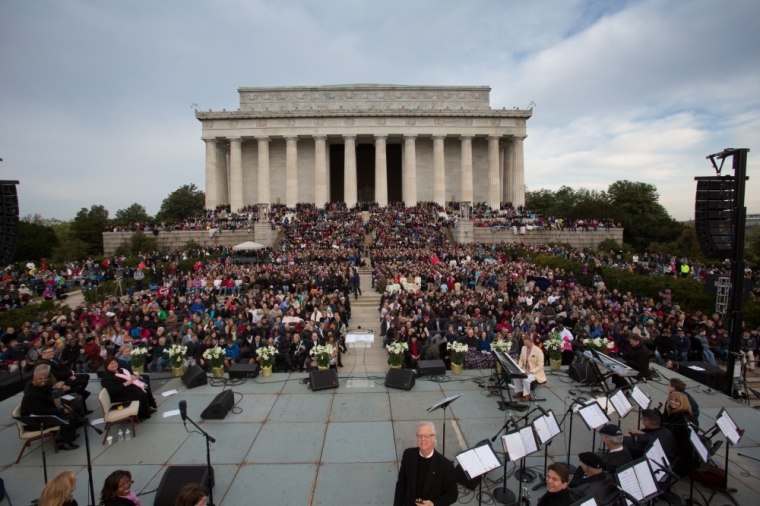 The 40th annual, interdenominational Easter sunrise service at the Lincoln Memorial in Washington, D.C. is expected to draw thousands of Washingtonians and people from across the country and the world.
"At the dawn of Easter morning from the heart of the city that influences the world, thousands will gather to declare, CHRIST IS RISEN, HE IS RISEN INDEED!" says Pastor Amos Dodge, the founding pastor of Capital Church who will host the event along with his wife, Sue, and lead Pastors Travis and Tara Goodman.
"We will celebrate the resurrection of Jesus, and the message will not only ring on the Washington mall, it will be heard around the world," Dodge adds.
The special service has been featured on the cover of The Washington Post and been listed as No. 5 on the Washingtonian's The Great Washington Bucket List.
"The music, the people, the message, and the view make this sunrise service one of the most unique ways to celebrate Easter Sunday morning," the organizers say.
The service is produced by the worship and technical arts ministry of Capital Church, with the help of about 100 volunteers from within the congregation.
About 10,000 people are expected to attend the service Sunday morning at 6.30 a.m., and it will also be live-streamed on the Capital Church website.
The annual service, which includes music and message, was first held in 1979 with a handful of people.
"I think it is important to reclaim some of our own spiritual heritage and we do that from the steps of the Lincoln Memorial and declare our faith and trust in Jesus Christ, who died and rose again," Dodge told The Christian Post in an earlier interview.
The pastor said he was inspired to start the Easter service after walking on the National Mall during a nice spring day.
"I was walking on the mall on a spring day in 1979 and I went past the Lincoln reflecting pool and I thought, what a great place for a sunrise service," Dodge said. "I thought it was a thought, now I know it was a whisper of the Holy Spirit. I made some arrangements with the park service and got the permits and that first Sunday we had about 150 perhaps."
The service requires the dedication and sacrifice of many of the Capital Church congregation members. "Our entire congregation is mobilized to do this service," he said. "So basically, our church gives up [leisurely] going to worship on Easter morning," Dodge explained. "Our church becomes servants to our city, to the nation and to the world to present the service to celebrate Christ's love and power and grace and forgiveness and mercy. We're all involved and heavily engaged in making it happen."