Thousands of Mourners Pay Tribute to Billy Graham, 'Epitome of Love,' at US Capitol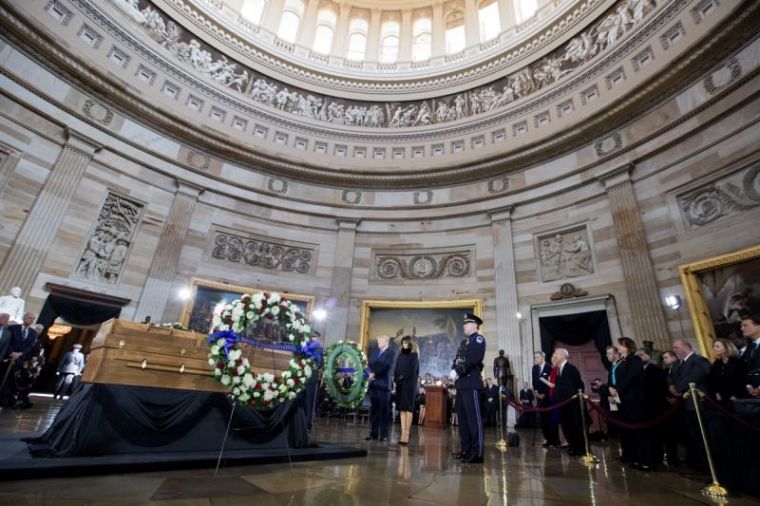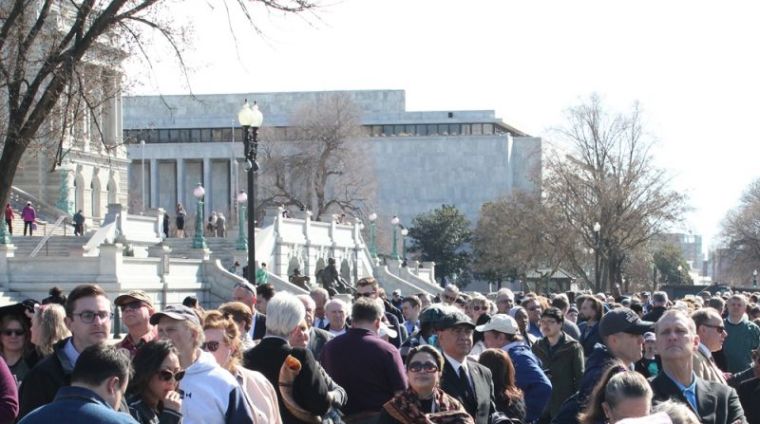 View Photos
WASHINGTON — Thousands of mourners paid their respects to the late Billy Graham Wednesday and Thursday, following a service in the U.S. Capitol honoring his life.
The world-renowned evangelist, who died Feb. 21 at the age of 99, became the fourth civilian in American history to lie in repose in the Capitol Rotunda.
Shannon Baker of Reading, Pennsylvania, who's a communications director for the Baptist Convention of Maryland and Delaware, told The Christian Post that the fact Graham was honored in this way by the federal government was evidence that, as Scripture says in Matthew 23:12, "those who humble themselves will be exalted."
"Today is a perfect example of a man who really humbled himself first before Jesus but then before presidents, before this government, before the people. Before every single person he became like Christ and shared love, grace, peace and mercy," Baker said. "And because of that, I think he's being exalted now. God has placed him in a place of honor. So as he lies in honor today, I trust that He is pleased."
In 1991, Baker became a Christian at age 24, and prior to receiving Christ, Graham was the only Christian leader she knew. When she lived in North Carolina she attended a few of his crusades, and early in her journey of faith she attended a church service in North Carolina where Graham was the guest preacher. Even then, she said she knew he was spiritually significant.
Baker's husband, Larry, who pastors Bridge Fellowship Church in Shellington, Pennsylvania, chimed in to add: "I wouldn't doubt it if God uses this day to continue to save people through Billy Graham's legacy even as people walk through [the Rotunda]. I wouldn't be surprised," he said, noting how remarkable it was that even people who don't believe in Jesus respected him.
Ryan Danker, who teaches church history at Wesley Theological Seminary in Washington, D.C., described Graham as "a gift" to the world. Danker, who was raised Nazarene and is now a Methodist, saw Graham speak in 1992 in Portland, Oregon.
"I think people connected with him because he brought the message of the Gospel with simplicity. He was definitely that North Carolina boy, but it was almost like you were sitting on the porch with him talking about Jesus. And I think people connected with that. Even if you were in a stadium full of tens of thousands of people it felt like he was talking to you."
Lines were long outside the Capitol Visitor's Center hours before the Rotunda was opened to the public at 1 p.m. Wednesday. Capitol staff told CP that people started a line at 5:30 a.m. to ensure they would be there first to view Graham's casket.
Debbie Duffett, a retired elementary school teacher from Alexandria, Virginia, came to pay her respects following her community Bible study Wednesday morning.
When asked by CP why she made the trip to the Capitol, she replied: "To honor him."
"There was no other man that I can think of that has done so much for so many people — bringing hundreds of thousands of people to Christ. And he's a joy, he's a light of the world. And the world needs so much more of that."
"And the world need so much more of Jesus," she continued, "especially given how much violence and strife present in society today."
"Billy Graham was the epitome of love. He was never judgmental. He truly loved mankind. But beyond that, he loved Christ. And that was so important to him that many people heard the message of the Gospel, the Good News that we can be saved."
Susan Ronkainen, who traveled to the Capitol with Duffett, said, "Our prayer when we came this morning was that God would raise up someone else with his humility, that we would have another humble leader like Billy Graham who did not turn people away but brought people to Christ.
"In my house we would always stop and watch the Billy Graham crusades and the revivals. Nothing went on in my house until the benediction and we would watch the people coming forward. And although you would be at home you were still changed by his words."
Ronkainen added that while she's heard many other preachers preach, Graham's ability to reach people was incredible and "the words that came out of his mouth were anointed."
Ronkainen came to pay not only her own respects but those of her 89-year-old mother who would have loved to have come but is in a nursing home. Her mom often had her listen to Graham and raised her in the Christian faith.
"There are generations standing behind me who would be honored that I'm standing for them," she said.