Thousands of Christian Voters to Unite in Hundreds of Churches for Election Day Communion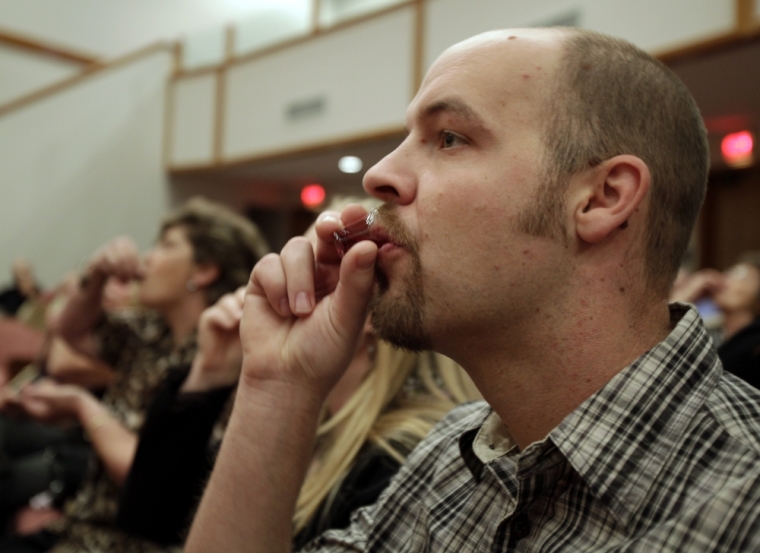 Thousands of Christian voters are expected to unite in hundreds of churches across the country to declare their allegiance to Jesus in Holy Communion services Tuesday as the bitter and blistering 2016 presidential campaign season comes to an end.
"You're literally going to have thousands of people all across the country who have been engaged in the political process who are going to vote in their neighborhoods wherever they are, and then later tonight people are going to gather to take communion," Jason Boone, coordinating minister of the Peace and Justice Support Network of the Mennonite Church USA, told The Christian Post Tuesday.
"In that act they are going to say, 'Yes, we engage in the world but our allegiance is to Christ,'" he said.
The gatherings, now known as Election Day Communion, have become somewhat of a movement after being launched in response to the 2012 presidential elections by Pastor Mark Schloneger of North Goshen Mennonite Church in Goshen, Indiana, Pastor Kevin Gasser of Staunton Mennonite Church in Staunton, Virginia, and Ben Irwin, creator of The Story in Grand Rapids, Michigan. Some 900 churches participated that year.
Election Day Communion 2016 is being spearheaded by the Peace and Justice Support Network of Mennonite Church USA and Mennonite Mission Network.
Boone explained that some 350 churches have signed up officially to hold Holy Communion services Tuesday but many others will be participating.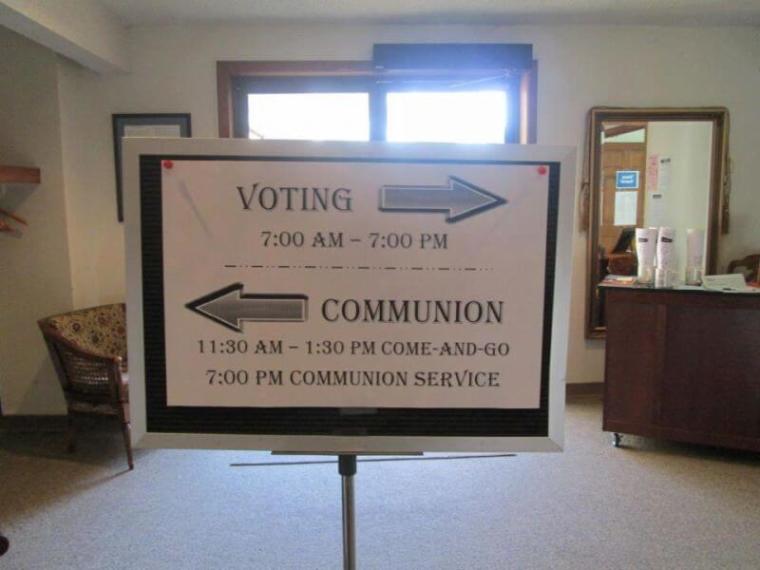 "What we've seen this time is we just know for a fact that there are a lot of churches observing this practice, they just haven't necessarily contacted us to get on the list which is fine with us, we're not running this as a for-profit enterprise," Boone said. "We're just getting the idea out there and it seems like there are a lot of churches that have grabbed the idea and made it their own."
Pastor Keith Atkinson of Red River Church in Austin, Texas, whose church is also being used as a polling station Tuesday, said he decided to sign up to host a service for the first time this year because it's a good response to the divisive presidential campaign season.
"I thought it would be a very good practice seeing the great division and uproar that this election has seemed to cause in this society — that we are proclaiming a greater reality of our unity in Christ and our allegiance to him and citizenship in Heaven," said Atkinson.
"We are a polling place as well, we thought it would be a good witness to people to say that in the midst of this we are celebrating what Christ has done for reconciling us to Himself and to each other," he said.
Atkinson, whose church is one of the few that will hold earlier Holy Communion services at noon, explained that while some churches have promoted their favored candidate he has tried to avoid the political discussion with his parishioners.
"My church, I don't know how people vote. I guess it's probably pretty evenly divided among the major candidates and third party candidates. We don't make that a big deal at our church ... we stay out of politics pretty much. We try to preach the Gospel and discipleship," he added.
The main message Atkinson said he wants to get to his congregation is: "Let's not get caught up in all of this. Let's keep our eyes on Jesus and then as a proclamation to those that will see that, we believe in a greater reality than the governments of men, that we believe that the government is upon the shoulders of Jesus, so we're proclaiming that."
The Rev. Karin Tunnell of St. Paul United Methodist Church in Odessa, Delaware, who will be hosting a service for 30 minutes at 6:30 p.m. Tuesday, said her focus is on unity.
"We are providing a service of Holy Communion to bring folks together because in our understanding of the Christian faith, Christ came for all and seeks always to bring us together — particularly around the table of Holy Communion. So regardless of experience, class, culture, education, all those things that tend to divide us, we are reminded in the sacrament of Holy Communion that Jesus came to save us all," said Tunnell.
"Regardless of who wins the elections we are called to serve Christ first. We are privileged in this country to have a say in our government but we are also called to be first and foremost followers of Christ and then that informs how we treat one another," she continued.
"This has been a passionate run-up to the elections and our role is, regardless of the outcome, to find ways in which we can still have meaningful conversations with one another where all of us can hopefully seek the best in one another to continue to have a country where the rights of all are respected, where there is justice for all, and where we seek the common good," she said.
"I know that there are many people who are anxious, so it's also a way of reminding people that regardless of who wins the elections that God is in control," Tunnell added.