Three Men Get Married in World's First 3-Way Gay Wedding in Thailand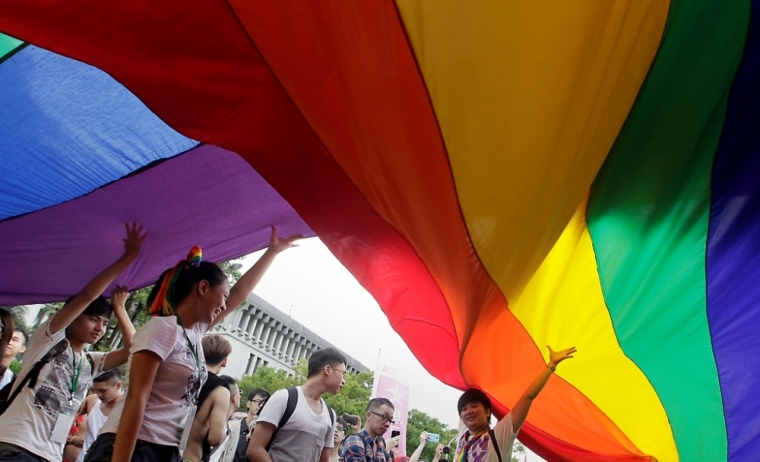 Three men have gotten married in what is reportedly the world's first three-way same-sex marriage in Thailand. Although Thailand doesn't officially recognize same-sex marriages, the trio claim that Buddhist law sanctions their union.
The Mirror and other sources reported that the wedding ceremony took place on Valentine's Day in February in Uthai Thani Province. The men were identified as Joke, 29, Bell, 21 and Art, 26.
According to the reports, Art and Joke began a romantic relationship in 2010 after meeting through business.
The couple later met Bell, who was studying management at Phitsanuloke University. The trio developed feelings for each other, and after Bell was hospitalized with a congenital disease, Art and Joke proposed the three-way marriage.
While LGBT individuals enjoy more freedoms in Thailand than in other Asian countries, same-sex couples are not legally recognized.
Joke explained in an interview that he views same-sex marriages just as valid as any state-sanctioned ones. He added that he feels Thai society is becoming more accepting of gay people.
According to the CIA Factbook, over 93 percent of Thailand's population belongs to the Buddhist faith.
The Human Rights Campaign points out that there are many different traditions and attitudes within Buddhism, adding that, in general, there's no specific reference or guidance for lay people when it comes to sexual orientation or same-sex behavior.
"Overall, it is difficult to qualify Buddhism's perspective on same-sex marriage, since perspectives vary greatly within the religion," the article states.
"Because of Buddhism's core theme to attain enlightenment, the path one chooses to take within the religion is largely personal, as is one's beliefs. Hence, most Buddhist literature indicates that opposition to or support for marriage rights for same-sex couples is a personal, rather than religious, statement."