Tim Lambesis, Christian Rocker, Sentenced to 6 Years for Hiring Hitman to Kill Wife
Tim Lambesis, Christian Rocker, Sentenced to 6 Years for Hiring Hitman to Kill Wife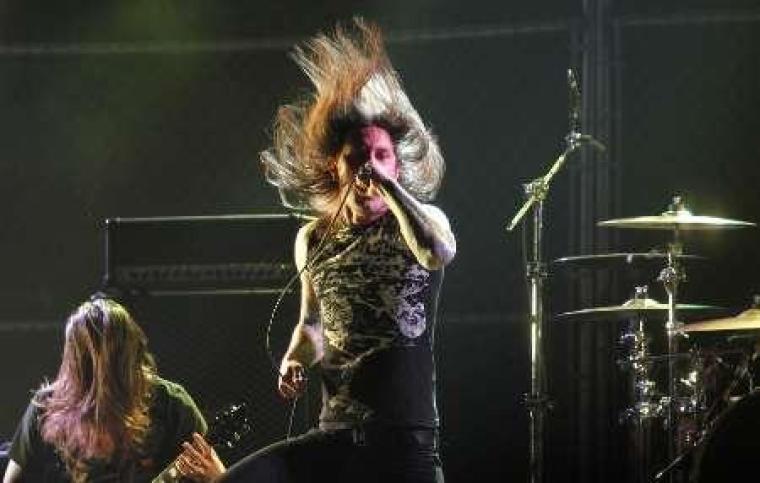 Christian band member Tim Lambesis, singer in As I Lay Dying, has been sentenced to six years in jail for attempting to hire a hitman to murder his wife. Lambesis pleaded guilty to hiring an undercover policeman to kill his wife, Meggan, in February of this year.
Lambesis was reportedly upset over the separation from Meggan and wanted revenge.
"After our separation, I was only allowed to see the kids twice a week," he told Alternative Press West Coast. "And it had to be somewhere Meggan could sit in the distance and literally watch me watch the kids. I know what it's like getting ready for a tour," he said of preparing for his prison term. "The problem is, this isn't a long tour. Career-wise, and as a father, I don't want to depend on getting in a van or on a bus to make a living. I need to have a backup plan. It's hard to prepare without knowing how long I'll be inside."
According to court documents and testimony, Lambesis asked his personal trainer if he knew anyone who would murder his wife. The trainer then contacted the San Diego Sheriff's Department, who sent an undercover detective to meet with the singer. Lambesis then paid the detective $1,000 in a cash advance, with another $19,000 to be paid once Meggan was dead.
Once arrested, Lambesis admitted to providing the detective with photographs of Meggan, her address and security codes, and a list of dates when their children would be with him so that they would be safe and provide him an alibi. Meggan told the court that she still feels unsafe even though her ex-husband is going to jail. She and the children will receive 10 years' protection from police.
"I do feel deep remorse," Lambesis said during sentencing. "I want to thank you for your prayers in the midst of everything that I've done, that you still have the heart that you do," he told Meggan. "In the midst of all the heartache, you still find the strength to pray for me, and I'm thankful for that."
A documentary about Lambesis' crime is currently being planned for the near future he told the Associated Press. He blames steroid use for his behavior, but the judge in his case informed him that people use steroids every day but do not plan murders.