Tim McGraw to Perform Glen Campbell's 'I'm Not Gonna Miss You' at Oscars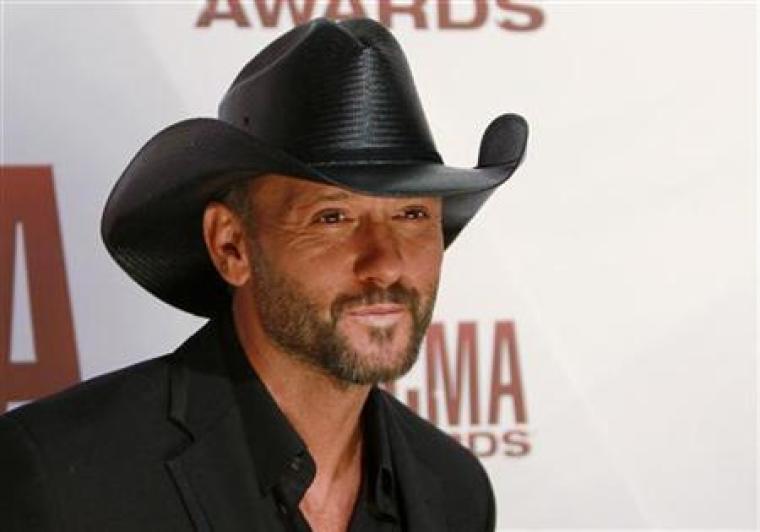 Tim McGraw is set to honor country music icon Glen Campbell at this year's Oscar Awards by singing the country music legend's Oscar-nominated song, "I'm Not Gonna Miss You."
Campbell's song is up for Best Original Song at the awards ceremony. Academy Awards producers announced that McGraw would be performing it on behalf of Campbell on Thursday.
"We couldn't think of anyone better than Tim McGraw to properly celebrate Oscar nominee Glen Campbell," the Oscars showrunners Neil Meron and Craig Zadan explained in a statement, according to Entertainment Weekly. "Tim is the consummate country artist and will bring a bit of Nashville to the Oscars stage."
"I'm Not Gonna Miss You" was written by Campbell and Julian Raymond, and the bittersweet love song is considered the last song for Campbell, whose health is rapidly deteriorating due to Alzheimer's disease. The legendary singer's battle with the disease and its crippling memory loss was chronicled in the documentary, "Glen Campbell… I'll Be Me."
McGraw's performance of Campbell's song will commemorate the 78-year-old's six decade-long career. Furthermore, McGraw was hand-selected by Campbell's family to do perform the song in his honor.
"Glen was always a fan of his music and Tim is sure to bring great emotional depth to the performance," Campbell's loved ones said in a statement, according to Rolling Stone.
In addition to Campbell's Oscar Award nomination for Best Original Song, "I'll Be Me" recently received a Critic's Choice nomination. The moving documentary reveals not only Campbell's struggle, but that of his family, including his wife of 33 years, Kimberly Woolen.
Campbell's "I'm Not Gonna Miss You" is in the Best Original Song category along with Diane Warren's "Grateful," John Legend and Common's "Glory," "Everything is Awesome" by Shawn Patterson, and Danielle Brisebois and Gregg Alexander's "Lost Stars." The 87th annual Academy Awards, including McGraw's performance, will take place on Sunday, Feb. 22 at 7 p.m. ET.
Watch the video for "I'm Not Gonna Miss You" here.