Tim Scott responds after 'Uncle Tim' trends on Twitter for hours: 'Attacking the color of my skin'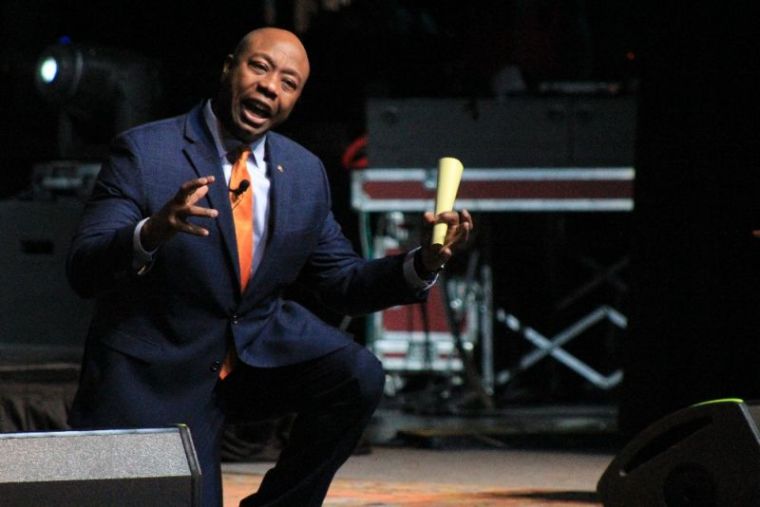 Twitter allowed the racial slur "Uncle Tim" to trend for hours about Sen. Tim Scott, R-S.C., an African American, after he delivered the GOP rebuttal speech to President Joe Biden's first address to a joint session of U.S. Congress on Wednesday. 
"Hear me clearly: America is not a racist country," Scott said in his speech, which emphasized the importance of common sense and common ground. The address was praised by conservatives. 
Not long after Scott delivered a speech on the American dream and his hope for America's future, the political left took to Twitter to call him "Uncle Tim," a reference to the slave character in the 1852 novel Uncle Tom's Cabin.
According to Merriam-Webster, the derogatory term "Uncle Tom" is often used to comment about a black person who is "overeager" to win the approval of white people. 
The term trended on Twitter from Wednesday night until about 10 a.m. Thursday morning, reports The New York Post.
A Twitter spokesperson told Fox News on Thursday that it is now "blocking the phrase ... from appearing in Trends" and wants to "promote healthy conversations on Twitter."
"This means that at times, we may not allow or may temporarily prevent content from appearing in Trends until more context is available," according to the spokesperson. "This includes Trends that violate The Twitter Rules."
The company declined to comment on why it took so long to block a phrase that violated its policies. 
In an interview with Fox News, Scott discussed his reaction to being called "Uncle Tim" and other racial slurs on Twitter after his Republican response speech. 
"It was upsetting certainly, but it was so disappointing that those people who want to be respected and given the opportunity to live their lives any way they want to, they don't want the same thing for you and me," Scott said. "What they want for us is to stay in a small corner and not go against the tide that they think is America."
"Their America and my America aren't the same America if they think that discriminating is the fastest way to end discrimination," he continued. "We have learned lessons from our past and we should. Racism and discrimination [are] still real, but it's being pushed further and further into a small corner in our nation. That's great news that we should celebrate."
Scott said his success story and rise from "cotton to Congress" within one lifetime of his family does not fit the race narrative the left wants to tell. 
"The left [has] doubled down that they are not going to attack my policies, but they are literally attacking the color of my skin," Scott said. "You cannot step out of your lane according to the liberal elite and the left."
Scott, who was soon to meet with the family of George Floyd at the time of the Fox interview on Thursday, also discussed the problems with Black Lives Matter and how America is trending in the right direction when it comes to race. 
"The foundation of Black Lives Matter with a communist paradigm is problematic," he said. "There's no doubt that all lives matter and specifically in the law enforcement conversation. Of course, the focus is on black lives versus what they have experienced. That's a healthy debate." 
"But here's what's not healthy," Scott continued. "It is not healthy for us to assume that every white officer is looking for a black person to violate their civil rights. It's not healthy for us to enter and engage in a conversation where reality is thrown out the window that we have not made progress. All you have to do ...  is to look at the statistics from 2000, 2010 and 2020 and you'll see a trend in the right direction. Actually, we're getting healthier and better when it comes to these [police] confrontations."
In his speech Wednesday night, Scott warned that thanks to identity politics, "kids again are being taught that the color of their skin defines them, and if they look a certain way, they're an oppressor."
"From colleges to corporations to our culture, people are making money and gaining power by pretending we haven't made any progress at all, by doubling down on the divisions we've worked so hard to heal," he said. 
Scott's speech also praised the Trump administration's success in quickly administering a safe and effective vaccine through Operation Warp Speed. 
Scott joined the Senate in 2013 after being appointed by South Carolina Gov. Nikki Haley. He is the only black Republican in the Senate. 
When Scott presented police reform legislation in June 2020, he was met with more "Uncle Tim" comments, racial slurs and even threats. 
Senate Democrats ultimately blocked his police reform bill. One senator called Scott's effort a "token, half-hearted approach." Scott argued that he tried to engage Democrats in discussions on the issue for over five years.