Tim Tebow to Host 'Night of Inspiration' Louisiana Fundraiser to Benefit Children With Autism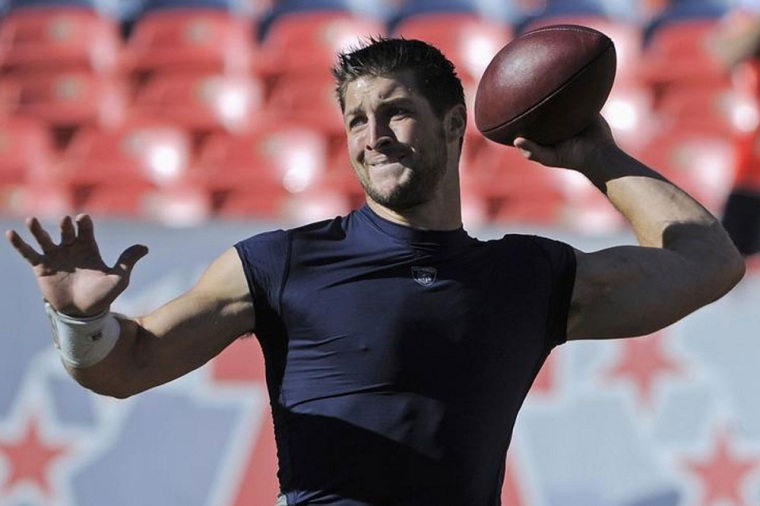 Tim Tebow has been asked to host a "Night of Inspiration" to benefit autistic children in Louisiana and their families later this spring.
The Night of Inspiration will take place in April at the Lake Charles Civic Center in Louisiana and will raise funds to benefit autism organizations in southwest Louisiana and McNeese athletics. Tebow, the 27-year-old evangelical Christian football star-turned-SEC college football analyst, will participate in a question-and-answer session and speak about his football career, childhood and Christian faith, according to The Orange Leader.
The publication also revealed that Tebow will host a youth football clinic on the day before the Night of Inspiration event, with players from the McNeese Cowboys football team. The event is sponsored by The Investor's Group of Louisiana and MaciFest, which is named after 11-year old Maci Fontenot.
Maci battled with optical glioma when doctors found a tumor growing in her left optic nerve at the age of 4, and has wanted to give back to her community since. Now, the MaciFest will do just that by raising awareness in the community.
Nikki Fontenot, Maci's mother, spoke about the family's reason for wanting to invite Tebow to the event that has taken Southwest Louisiana by storm for years.
"The reason why we first felt compelled to invite Tim Tebow is because of his love for children and the work he's doing for children's hospitals. The event will spotlight his motivational message, as well as the inspirational testimonies of other regional overcomers," said Fontenot. "We're overwhelmed by the interest we've already received and fully expect to sell out of tickets before this exciting event."
Tebow, who's been vocal about his focus on the humanitarian legacy he's working to build, told People magazine last year: "I hope that when I'm 90 years old, I've accomplished a legacy that isn't all about me. I hope it's a legacy about the people who our foundation helps. We're about to open a hospital in the Philippines. We'll have this hospital where we can help kids who are hurting; healing them physically, but encouraging them emotionally and spiritually as well."