Tim Tebow 'Not Worried' About Faith Being Mocked on Field; Hailed for 'Tremendous Impact' on Mets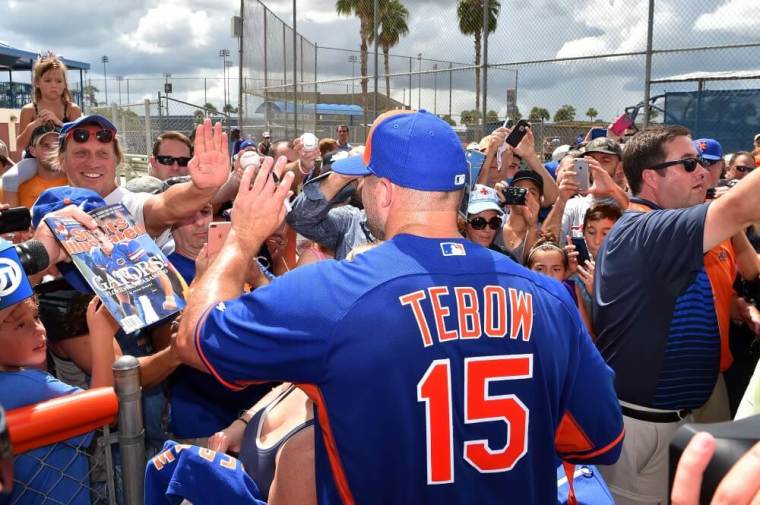 Former NFL star turned baseball player Tim Tebow is being praised for the tremendous impact he made on the New York Mets' Class A affiliate team, the Fireflies, and he said he's not worried about those who mock him on the field for his Christian faith.
In a recent press conference held after the Columbia Fireflies game on Sunday, Tebow announced that he is being promoted to the St. Lucie Mets, the organization's Class A-Advanced team.
When asked about being mocked for his Christian faith on the field by the RiverDogs during the Fireflies' match last weekend, the former NFL quarterback said he heard "a little" about all the jokes made about him.
During the game against RiverDogs, the New York Yankees' Class A affiliate, Charlie, the RiverDogs' mascot, was seen wearing the famous John 3:16 eye blacks and "Tebowing" throughout the game. Other pranks included: playing the "Hallelujah Chorus" each time Tebow went to bat. They also displayed on the big video screen a picture of him crying after Florida's loss to Alabama in the 2009 SEC Championship.
The RiverDogs apologized the same day after Tebow's Christian fans threw a fit on social media for their poor taste in jokes. The Mets also called the antics "very minor league."
Tebow, however, maintained that he is use to things like that happening.
"If they did some silly things, I didn't worry about it," he said.
Despite the continued criticism of the two-time national champion and Heisman Trophy winner, Fireflies President John Katz stated that Tebow greatly impacted the clubhouse with his experience and leadership.
"His contributions, both on the field and in our community, have made a tremendous impact on our team, the City of Columbia and the entire South Atlantic League," Katz said. "We wish Tim the best as he continues his journey to Citi Field."
Despite the president's praise for the young athlete, some believe his promotion is not warranted. Tebow appeared in 63 games since April, batting .222 with three home runs and 23 RBIs, but still critics say it's all a plow and think he's being moved on because of his pedestrian statistics.
Because of his celebrity status, the 29-year-old helped push the Fireflies' average attendance up nearly 40 percent over a year ago. Tebow maintained that he's not thinking about the naysayers.
"It's not something that I have to answer," he said at the press conference. "I just try to go out there and try to work. A lot more smarter, wiser people than me that make those decisions."
Follow Jeannie Law on Twitter:
@jlawcp