Tim Tebow Offered Lifetime Membership From Museum of Sex
Tim Tebow, 25-year-old Christian special teams player on the New York Jets, has admitted that he is a virgin but the Museum of Sex in New York City still decided to grant him a lifetime membership.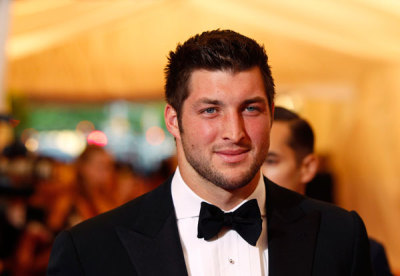 Animal New York recently shared a letter that museum membership coordinator Evelyn Ramirez sent to the Jets' practice facility. In the letter, Ramirez said that she respected Tebow's choice to wait for intimacy until marriage but wanted to help educate him about sex.
"We would like to welcome you to New York City area with a lifetime membership to the Museum of Sex," the letter states. "While we completely respect your choice to forgo having sex until after marriage, we hope you visit the Museum of Sex to learn more about the history, evolution and cultural significance of human sexuality."
Ramirez implied that Tebow could improve his performance as a member of the Jets by learning more about sexuality.
"Enclosed please find your lifetime membership card along with an overview of 10 key health benefits of safe sex including higher levels of antibodies boosting immunity, reduction of pain, better sleep, stress reduction and better self-esteem," the letter states. "All issues that could certainly help you maintain a healthy advantage in the upcoming Jets football season."
Tebow first publicly admitted that he was a virgin during an SEC Media Day press conference, when a reporter asked the then 21-year-old college football player if he was saving himself for marriage.
"Yes, I am," Tebow answered. "I think you're stunned right now. You can't even ask a question. … I was ready for that question, but I don't think y'all were."
Some have speculated about the NFL star's virginity, and one website even made Tebow the focus of a $1 million offer to any woman who can prove she has been romantically involved with the virgin NFL star. The dating website Ashley Madison, which describes itself as "the world's leading married dating service for discreet encounters," was behind the promise of monetary gain for any woman who could prove that Tebow is no longer waiting for marriage to experience sexual intimacy.
"Tebow has been using his infamy from this year's football season to get some ladies in the sack," the press release from the website stated earlier this year.
Despite some negative media attention, Tebow's virginity has worked in his favor. Virgin Atlantic Airlines reportedly offered Tebow free flights if he remained a virgin when the announcement was made that he would move to the New York Jets.
"The 'penalty flag' will only be thrown if the quarterback 'gets sacked' and 'loses possession' of his V-card," a statement from the airlines read.
Tebow spoke about some of the public scrutiny that he endured concerning his dating life during the Tebow Foundation Charity Celebrity Golf Classic last April.
"I'm definitely single and having a good time," Tebow told E! News in April. "It's amazing, I can meet someone for 10 minutes at an event, and the next thing you know, you're dating that person, you've been with them for two years and you're about to have four kids with them. It's amazing how rumors can spread."