Tim Tebow, Olivia Culpo Met at Church but Never Dated?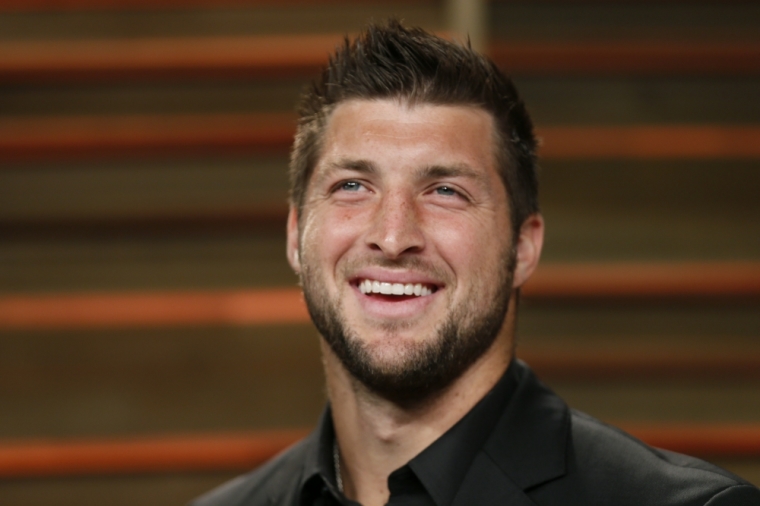 Tim Tebow and Olivia Culpo met at church but they never dated, according to new reports.
After rumors surfaced about Culpo, the former Miss USA 2012, dumping the 28-year-old college football analyst and NFL hopeful, TMZ is reporting that none of it is true.
"Well, sources close to the situation tell us Tebow and Culpo's romantic relationship never went beyond the rumor stage. We're told the chatter started after Olivia and Tim met in church a few months ago — and even though their reps denied it, a lot of people ran with it," TMZ reports. "Our sources say Tim did show interest in Olivia, and they hung out a few times WITH mutual friends ... but never had a one-on-one date."
The revelation comes just days after the New York Daily News stated that the rumored couple broke up on Thanksgiving Day because Culpo did not want to abstain from sex with Tebow, a virgin.
"He was really into her. He was sending her love letters and cute notes and professing his love for her," a source reportedly told the newspaper. "She had to break up with him because she just couldn't handle it," the source added. "He still hits her up, but she just can't deal with the sex thing. He's pretty adamant about it, I guess."
The athlete has previously been linked to actress Camilla Belle and reality television star Jana Duggar. In 2014, reports surfaced that Christian reality television patriarch Jim Bob Duggar wanted the athlete to date his daughter, Jana.
Star magazine reported that Jim Bob and his wife, Michelle, were meeting Tebow's mother, Pam Tebow, in Arkansas in the hopes of setting the Evangelical athlete up with their eldest daughter.
"Jim Bob is no dummy," an insider reportedly told Star magazine in 2014. "Tim would be a perfect addition to the family and a feather in his cap. Can you imagine the press attention a Tim-Jana wedding would get?"
While Jim Bob posted a social media image with his wife and Pam Tebow at a Loving Choices Pregnancy Center's fundraiser in Springdale, Arkansas, in 2014, he also made it clear that he would not choose who his children should marry.
"I do not choose who my children marry. ... Over the years, I have suggested guys to my daughters, or we have had a lot of guys that approach us and are interested in this girl or that girl, but each of our girls have chosen their spouse on their own," Jim Bob previously told People.
In 2014, Tebow was questioned about finding a wife after years of telling the public that he's a single man, and spoke about the importance of looking for more than a pretty face.
"Of course it's important to be attracted to someone, but it really needs to be about who they are on the inside. I've always been attracted to girls whose hearts are the biggest thing about them," he told People. "People can be very sweet and kind to others who can do a lot for them. I want to find a girl who will be the same person to those who can't do anything for her in return."