Tim Tebow Parties With Christian College Students on Halloween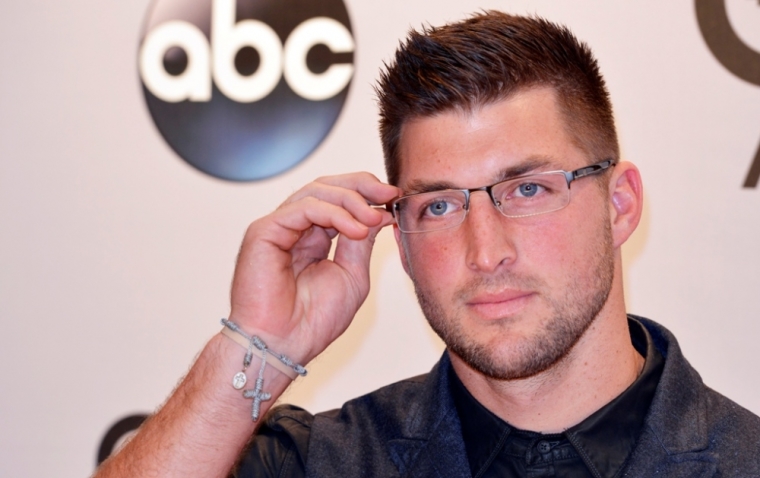 Christian athlete Tim Tebow gave new meaning to being a "team player" at a recent Halloween party for Christian college students where he dressed as a member of a SWAT team.
The 28-year-old former Heisman Trophy winner turned-ESPN-football-analyst was spotted at a University of Kentucky Christian Student Fellowship Halloween party held on the eve of Halloween. The athlete and his co-hosts of ESPN's "SEC Nation" dressed in costumes and mingled with Christian college students who snapped photos and thanked them for a good time.
"Big shoutout to @TimTebow & the @SECNetwork crew for kickin it with the best party on campus! #CSFHOLLA #SECNation," the University CSF campus ministry tweeted.
While Tebow's appearance at the Halloween party was a lighthearted affair, the TV personality is scheduled to appear on more serious terms at The Orchard Oxford church in Oxford, Mississippi where he'll discuss his faith and life.
"We are really excited about Tim coming to share with us," Pat Ward, lead pastor at The Orchard, said in a HottyToddy.com report. "We are in the middle of a series of sermons on generosity from 1 Timothy 6 and thought he would be a great voice to add to the conversation."
Ward expects the atmosphere for Tebow's appearance to be casual and conversational.
"It creates a fun interaction and allows us to talk about a wide range of topics," Ward said. "I also think it allows for us to dig a little deeper into a person's story and into their walk with Jesus."
Tebow has participated in many speaking engagements, and previously spoke to the youth of KLIFE, a Christian interdenominational ministry for youth and their families, in Sheridan, Wyoming earlier this year. At the event the athlete answered questions on various topics concerning today's youth.
One topic included peer pressure, and Tebow offered some unique insight. According to the Christian athlete, giving in to peer pressure puts people at risk of being nothing more than average.
"Do I want to be average or do I want to be special? If everyone is going one way, I'm gonna make a choice to follow that?" Tebow questioned, according to The Sheridan Press. "Why? Because, if I'm like everyone else, then I'm average."
"For me, when I was young, even if it wasn't right, I chose to be different because if you're different you at least have a chance to be special. … It is OK to be different," Tebow said.
As a Christian athlete who was once in the NFL, Tebow put that theory to good use, celebrating his differences and using them as an avenue to connect to others.
"When you choose to love every day, and be excited about it, and sacrifice to be the best that you can be, people are going to look at you and say, 'Wow, that's different, that's exciting and that's contagious,'" Tebow said.