Tim Tebow Pokes Fun of Baseball Career in Nissan 'Heisman House' Halloween Ad (Watch)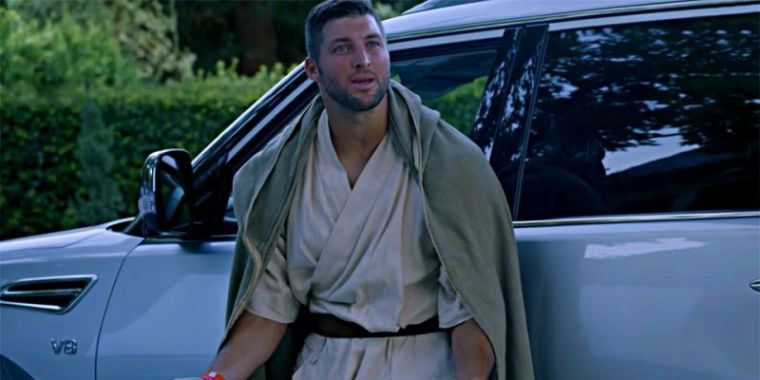 Tim Tebow is joining in on the running joke about his baseball career in the latest Nissan commercial "Teboween."
For seven years Nissan has sponsored the Heisman Trophy, the highly coveted award given to one college athlete each year who exemplifies excellence. As a sponsor of the Heisman Trophy, Nissan has released a number of commercials centered around the theme of a fictitious Heisman House where those who received the award live.
This month, Tebow is the focus of the commercial in which he attempts to take his fellow Heisman Trophy winners to a Halloween party in a Nissan vehicle. While Tebow is dressed as a Jedi from the movie "Star Wars" and expecting others to follow the theme, his fellow Heisman Trophy winners are dressed in Tebow football jerseys from the University of Florida and each of the teams that he played for in the NFL.
Former Alabama Crimson Tide RB Derrick Henry, however, donned a baseball uniform in the commercial which led Tebow to ask, "Let me guess, you're me also?"
Henry responds, "Nah, I'm a baseball player."
In reality, Henry, who plays for the Tennessee Titans, has spoken highly of Tebow as an athlete. When he won the Heisman Trophy in 2015, the RB admitted to being a fan of Tebow despite playing for a rival team.
"I really loved when Tebow was there," the Florida native previously told AL.com. "It was a very exciting time to be a Florida fan."
Tebow, the 30-year-old athlete who won two championships with the University of Florida Gators in 2006 and 2008, had a shaky NFL career and played his last regular season game in 2012. Last year, Tebow received some flack for announcing that he would pursue a professional baseball career after he had a hard time getting picked up by an NFL team as a quarterback. While he currently serves as an outfielder for the St. Lucie Mets, Tebow has drawn both criticism and mocking for his decision to pick up the sport that he hadn't played since high school.
Now it seems Tebow is looking to make light of the situation.
"Y'all know imitation is the highest form of flattery, right," Tebow says, laughing along with his fellow Heisman Trophy winners.