Tim Tebow Responds to Call for Him to 'Disappear' From the Media
Tim Tebow, New York Jets backup quarterback who has received as much media attention as the team's starter, is responding to critics who say he needs to be more tight-lipped around the press.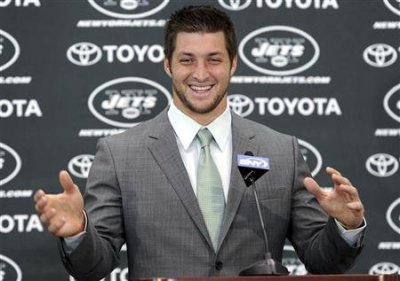 Tebow, 24, should speak less in front of media personnel according to ESPN analyst Tedy Brushchi, who said the popular backup QB should "disappear."
"Stop talking to the media so much. You need to disappear, okay, Tim Tebow," Brushchi said on the network recently. "You're not the starting quarterback, it's Mark Sanchez's team. I want my voice to come from my head coach and my quarterback -- my starting quarterback."
While Tebow is known for being a devout Christian athlete who has remained positive throughout negative media coverage, he responded to Brushchi's comments on Wednesday.
"To be honest, I just do what I'm told and, on this day, I'm told to talk to you -- so I'm talking to you,"Tebow told reporters while he was at minicamp on Wednesday. "I don't get paid enough to make all those decisions."
While Tebow said he had a lot of respect for Bruschi, New England Patriots linebacker turned analyst, he said he thought the ESPN correspondent would be more understanding of the situation.
"I just do what I'm told. That's something you'd figure (Bruschi) would understand," Tebow said. "I'm doing what I'm asked to do."
Since announcing that he was "excited" to join the Jets in March, multiple media headlines have been insinuating that Tebow was in competition with Sanchez for the starting quarterback position. That notion seemed to be most upsetting to Brushci.
"I don't want all this competition brewing, and every time you speak and anytime you talk about competition or anything like that, you're twisting things," the analyst said. "I want one voice. One quarterback, not two."
However, Jets head coach Rex Ryan stood up for Tebow in light of the criticism he has been receiving.
"Tim is a very popular player, obviously, a popular person. I think that's a good thing," Ryan said in an ESPN report. "Everyone wants to focus on the negative. I think it's a real positive."
Tebow, who has reportedly gained close to 10 pounds to fit into the Jets' ground-and-pound offense, will reportedly be worked into the team's wildcat package more than he will share QB duties with Sanchez.
For Coach Ryan, the added exposure the Jets have received since signing Tebow has yet to become a problem.
"I think he's a good football player and a heck of a person," the head coach said in the ESPN report. "I don't know where that's a problem for any team, especially for us."
Tim Tebow, Prayer Breakfast
Tim Tebow's Legacy of Faith, Hope and Love