Tim Tebow Tells Americans to Stop Idolizing Sports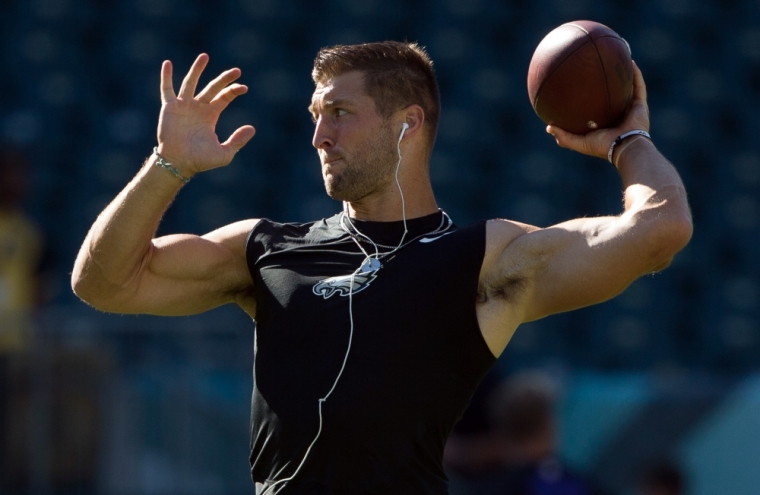 Tim Tebow rose to fame as a college football star, but he is not shying away from warning others about turning high profile athletes and sports into idols.
"We choose to idolize certain things, and love certain things," Tebow said while speaking at a benefit for the Cancer Wellness Foundation of Central Alabama. "I'm not saying it's wrong to love sports, I love them as much as anybody. But do we choose to really see what matters?"
As a speaker at the Montgomery, Alabama, benefit called "The Journey Continues" Tebow invited three "wish girls" battling cancer to join him. Instead of focusing on celebrities, the athlete-turned-college football analyst spoke about how "messed up" it was that people were not honoring those trying to overcome cancer.
"All these men and women that are celebrities, they're awesome, they're good friends of mine. They do a lot," Tebow said, according to the Montgomery Advertiser. "And everyone was idolizing these men and women, and nobody was paying attention to these three girls. I think all of them would agree, these three girls have more character, heart and determination to fight through what they had fought through than any one of those celebrities."
The athlete said he was struck with the revelation: "This is what matters. This is what we should be focusing on.'"
Lucile G. Waller, the executive director for the Cancer Wellness Foundation, previously explained why Tebow was a great choice to speak at the recent benefit that took place at the Montgomery Performing Arts Center.
"On and off the field, he exemplifies Judeo Christian values of which most people in this country identify," Waller said. "When one is faced with a life or death situation, as many of the patients which we help are, one relies on your faith in God."
Tebow led the University of Florida Gators to a national championship as the team's starting quarterback in 2008, after winning the Heisman Trophy on the team in 2007. He was also on the team when it won a championship in 2006 and was the first college sophomore to win a Heisman Trophy, which honors the best football player of a season.
The Christian athlete has struggled to find his place in the NFL after being drafted to the Denver Broncos in 2010, signing with the New York Jets in 2012, and getting picked up by the New England Patriots in 2013, followed by the Philadelphia Eagles in 2015, which cut him from the roster as a third-string quarterback. 
"In the end, football is just a silly game. Greatness comes from serving," Tebow told a crowd of students at a Liberty University convocation in 2013. "You want to be great? Be a servant. You want to be great? Humble yourself."