Tim Tebow Tells High School Athletes There's More to Life Than Short-Lived Sports Career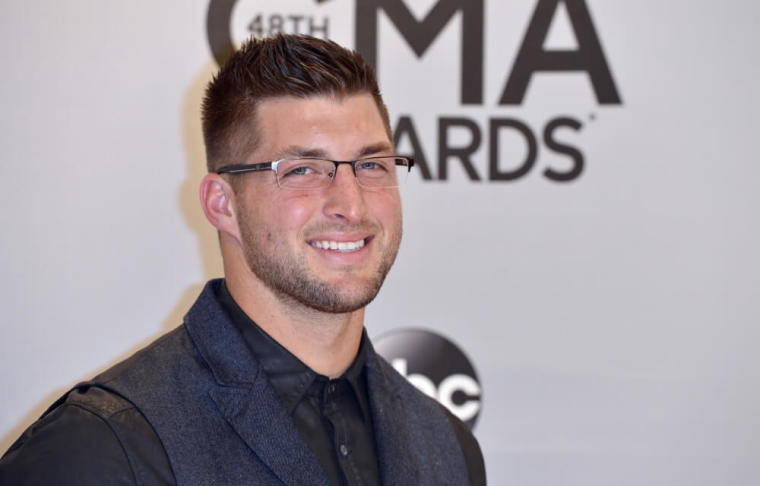 Tim Tebow rose to fame as a student athlete in high school, but he is advising teenagers that they need to have other priorities in life.
"You are changing other people's lives for better or worse, every day," the NFL quarterback-turned-SEC college football analyst told high school students Monday, according to Greenville News. "Be bigger than sports. Don't just be an athlete — be more than an athlete."
Tebow, 28, spoke to students receiving awards Monday evening at the Greenville News' Upstate Sports Awards program that took place at Greenville, South Carolina's TD Convention Center. While many of the 220 high school athletes in attendance were probably looking forward to higher education that involved further developing their athletic career, Tebow made it clear that the opportunity to play sports doesn't last long.
"You only have so many games, so many opportunities to win a championship.Your career is short, but your life is going to be a lot longer," Tebow said. "I've been fortunate to be part of championships. They don't last forever, but what you do for other people will.
"That's what real success come from."
Tebow was a first round draft pick coming out of the University of Florida. As a quarterback he led the Gators to secure a national championship in 2008.
He was also on the team when it won a championship in 2006 and was the first college sophomore to win a Heisman Trophy in 2007 which honors the best football player of a season. Still, the Christian athlete has had a short lived NFL career.
After being drafted to the Denver Broncos in 2010, Tebow signed to the New York Jets in 2012 where he played his last regular season game. Although he participated in some training camps and preseason appearances with the New England Patriots in 2013 and Philadelphia Eagles in 2015, neither team added him to their roster.
"In the end, football is just a silly game. Greatness comes from serving," he told a crowd of students at a Liberty University convocation in 2013. "You want to be great? Be a servant. You want to be great? Humble yourself."
As a speaker at the Montgomery, Alabama, benefit called "The Journey Continues…" earlier this year, Tebow invited three "wish girls" battling cancer to join him. Instead of focusing on his celebrity, the athlete-turned-college football analyst spoke about how "messed up" it was that people were not honoring those trying to overcome cancer.
"All these men and women that are celebrities, they're awesome, they're good friends of mine. They do a lot," Tebow said. "And everyone was idolizing these men and women, and nobody was paying attention to these three girls. I think all of them would agree, these three girls have more character, heart and determination to fight through what they had fought through than any one of those celebrities."
"We choose to idolize certain things, and love certain things," Tebow said at benefit for the Cancer Wellness Foundation of Central Alabama. "I'm not saying it's wrong to love sports, I love them as much as anybody. But do we choose to really see what matters?"