Tim Tebow: Don't Underestimate God, Who Used My John 3:16 Eye Black to Reach 94 Million People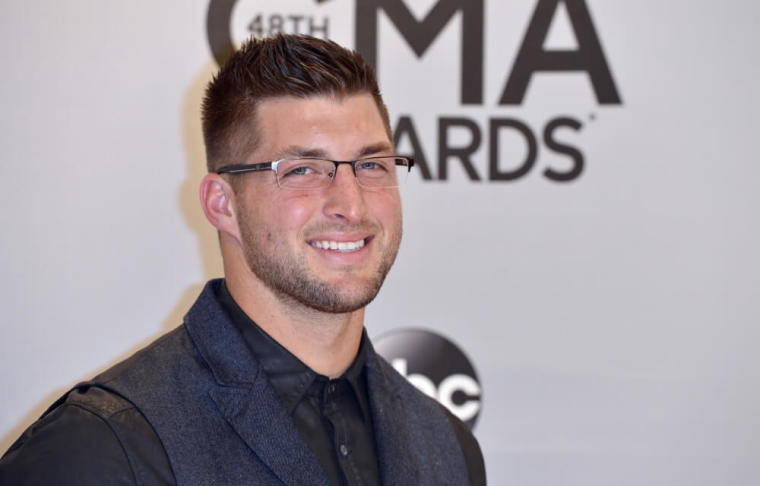 Tim Tebow inspires people, even without actively playing for an NFL team, and insists other people can join him in becoming role models no matter what their circumstances are.
The 28-year-old, Heisman-trophy-winner-turned-SEC-College-football analyst now uses much of his time doing motivational speeches and philanthropic work. When speaking to Northside Christian Church in Fresno, California, on April 2-3, the Christian athlete challenged people to become role models.
"You might think, 'I'm not a role model. There aren't these people that are looking up to me,' " Tebow said in his message, according to The Fresno Bee. "And my response to that is: There is probably someone who is looking up to you. … There is someone that their life is going to be changed because of you. The question is, 'Is it going to be changed for the better or the worse?' "
He went on to assure the estimated 2,000 people that attended the event that God has plans for them.
"You think God can't use you because you don't feel qualified to be used?" Tebow asked. "Now you are just underestimating God. It didn't matter if he had one loaf and a half a fish, God could have still done the same with it."
Tebow recalled how God used him to write Bible verses on his eye blacks as a college football player at the University of Florida. When his school public relations office told the Florida Gator coach that his minor gesture to honor God touched millions, Tebow was shocked.
"He said, 'During that game, did you realize that 94 million people googled John 3:16?' And honestly my first thought was, 'How in the heck do 94 million people not know John 3:16 …," Tebow told the audience. "What a big God that we serve. I'm out playing a silly game, and I put these things under my eyes and it's amazing what God can do."
Although Tebow has been working hard to secure an NFL quarterback position for the past four years, he also realizes that life is about much more than football.
The Christian athlete previously spoke about being defined by more than just the sport the propelled him into the spotlight.
"In the end, football is just a silly game. Greatness comes from serving," Tebow told a crowd of students at a Liberty University convocation in 2013. "You want to be great? Be a servant. You want to be great? Humble yourself."
Tebow led the University of Florida Gators to a national championship as the team's starting quarterback in 2008, after winning the Heisman Trophy on the team in 2007. He was also on the team when it won a championship in 2006 and was the first college sophomore to win a Heisman Trophy in 2007, which honors the best football player of a season.
Although he has accomplished a great deal as a college football player, the athlete previously spoke about the importance of not idolizing football.
"We choose to idolize certain things, and love certain things," Tebow said in a Montgomery Advertiser report while speaking at benefit for the Cancer Wellness Foundation of Central Alabama. "...I'm not saying it's wrong to love sports, I love them as much as anybody. But do we choose to really see what matters?"