Tim Tebow's Famous John 3:16 Eye Blacks Mocked by Charleston RiverDogs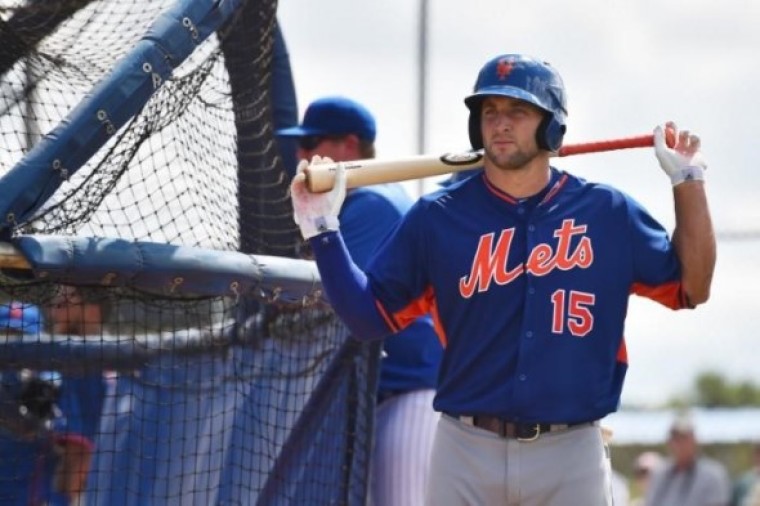 Tim Tebow's expression of faith was mocked when his Columbia Fireflies faced off against the opposing Charleston RiverDogs' team this past weekend.
The RiverDogs, a Class-A affiliate team of the New York Yankees, gave Tebow less than a warm welcome when the 29-year-old arrived in Charleston, South Carolina, with his team where they played three games between Friday and Sunday. The RiverDogs mascot donned eye blacks with John 3:16 written on them which is reminiscent of the ones Tebow became famous for wearing at his University of Florida championship game in 2009.
"I've caught the Tebow fever," the Twitter page for the brown dog mascot known as Charlie T. RiverDog states.
The team did not stop there in their taunting of Tebow. Whenever one of the Fireflies were up at bat, a jumbotron featured a clip of Tebow crying from his college team's 2009 loss in the SEC Championship game.
Along with Tebow's tears, the words "not Tim Tebow" would flash across the jumbotron.
The Riverdog team took to social media to drive their point home by tweeting "we're not sure who IS batting, but we're relatively sure it's not @TimTebow. @MiLBPromos."
Throughout the years, Tebow has been vocal about the impact of his decision to wear a scripture on his eye black in such a highly publicized college championship game. While the NCAA no longer allows players to wear messages on their eye blacks, Tebow believes God had a hand in him doing so.
After Tebow decided to do so in 2009, his school public relations office told the Florida Gator coach that a record 94 million people searched for the scripture on Google. Last year, the athlete spoke to Northside Christian Church in Fresno, California, and recalled his initial reaction after his coach broke that news to him.
"[Coach] said, 'During that game, did you realize that 94 million people googled John 3:16?' And honestly my first thought was, 'How in the heck do 94 million people not know John 3:16 ...," Tebow told his audience, according to the Fresno Bee. "What a big God that we serve. I'm out playing a silly game, and I put these things under my eyes and it's amazing what God can do."