'Tips for Jesus' Strikes Again in San Francisco With $3K Bonus
'Tips for Jesus' Strikes Again in San Francisco With $3K Bonus
The person or group of people behind Tips for Jesus struck again Tuesday evening when they left a generous tip of $3,000 at a sushi restaurant in downtown San Francisco, Calif.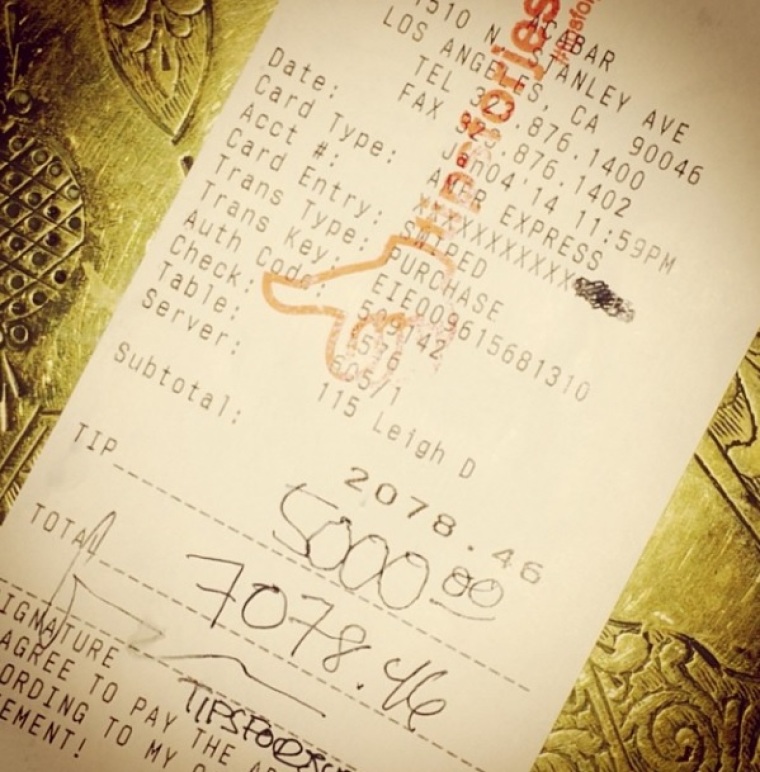 Hilary Hesse, a waitress at the high-end sushi restaurant Roka Akor on Montgomery Street, reportedly waited on the generous tipper Tuesday evening. The man took a corner table in the back of the restaurant and racked up a $147.00 tab. Before the waitress returned to the table to collect the man's bill, the diner had reportedly left a whopping $3,000 tip to his charge. In addition, he reportedly picked up the tab of the couple dining next to him.
Hesse told the local KPIX 5 that she was at the neighboring table telling the couple that the male diner had picked up their tab when she noticed the generous tip left on her bill. "I was actually at the table telling them he had paid for their meal. And I peripherally opened up the credit card holder, looked down at it and my jaw just dropped," Hesse said. "And they said, 'Did he take good care of you?' And I said, 'uh huh.'"
The waitress went on to say that she first thought the diner had made a mathematical error. "First, I think that he doesn't know how to use the decimal point and that it was actually $30. And then I looked closer and […] Oh, my God […]"
The Tips for Jesus trend has been taking place since September, and involves either one person or a group of people leaving massive tips for waiters, waitresses and bartenders around the country. The tips range from $500 to $10,000 and include the note "Tips for Jesus." Photos of the receipts containing these generous tips have been uploaded to the Instagram account @tipsforjesus and a Facebook page with the same name.
The Gawker media blog ValleyWag claimed back in December that Bay Area-entrepreneur Jack Selby, former vice president of PayPal, is behind the mysterious Tips for Jesus trend, although this claim has not been verified by Selby himself.
Tips for Jesus previously made an appearance in San Francisco back in November, when someone left a $1,500 tip on a $468 bill at Harris' Steakhouse. The person or people behind the trend have also visited Los Angeles, the University of Notre Dame, Chicago, and Utah, among other places.