Future NFL Hall of Famer Tony Dungy: 'If You Follow the Lord, You're Going to Be OK'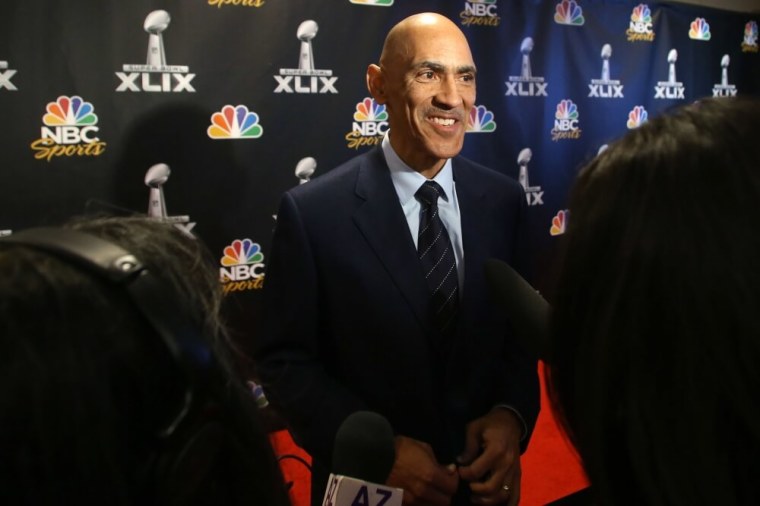 National Football League head coach Tony Dungy told audience members at the Super Bowl 50 breakfast earlier this month that no matter what happens in life, the only thing that matters is whether or not they are following the will of the Lord.
Dungy, a devout Christian who was the first African-American head coach to win the Super Bowl when he did it in 2007 with the Indianapolis Colts, spoke from the heart when he talked in detail about the struggles of his 15-year-old son, Jordan, who was born with a rare congenital defect that prevents him from feeling pain.
"You'd think that would be good, but it's not," Dungy was quoted as telling the crowd at the San Francisco Hilton Hotel by CNS News. "He's had a lot of operations, he's broken a lot of bones ... he's had about 30 surgeries."
Dungy, who was recently elected to the NFL Hall of Fame, admitted that his son's conditions have caused a lot of challenges for the family, but added that he is able to see the beauty in how God is working through his son to teach others about the importance of pain.
"He's a wonderful kid. ... Throughout this whole life experience with him, he's taught us why God allows us to feel pain. ... He's taught us a lot about life, he's taught us not to complain about things that are insignificant. ... He's always got a smile on his face, always helping people. We've learned from him," Dungy said, according to the Gospel Herald. "When people meet him, they understand where God is. He has a tremendous outlook on life and how the Lord has taken care of him. ... He doesn't look at the downsides of things."
Dungy explained that one of the biggest issues with his son's condition is that the lack of pain makes it easier for him to lose focus on the Lord.
"There are different types of people and God created us all and God doesn't make mistakes and He is giving us opportunities to see Him in the right light," Dungy continued. "There are people out there like Jordan, going through life thinking everything is fine, and they don't feel pain. But they're really doing damage to themselves, and they're doing things that take them off track and away from the Lord. And the Lord is trying to get their attention and they aren't seeing it, they aren't feeling it even though there are things wrong. God is still out there for them and still hoping they'll come back."
Even though there are different reasons for why people veer away from the path of the Lord, Dungy assured that God is just waiting for them to come to Him.
"In contrast there are people who all you do is feel pain. Everything hurts. You can't understand why these things happen in your life, why you got fired, why you've had these problems," Dungy noted. "God is still there for you also, He's just waiting for us to say, 'I need to follow the Lord and have things respond in the right way.' I know that's been the impact that Jordan has had on his peers — no matter what is happening in your life, if you follow the Lord, you're going to be OK. Physical pain, physical deformities, that's not a big deal. But if spiritually you are right, you are intact, you're going to be in great shape."
Dungy warned players and coaches in the audience that there needs to be something more important in their lives than football and careers.
"What good is it for someone to gain the whole world, yet forfeit their soul?" Dungy asked. "If football is your entire life, and you don't have a relationship with the Lord, you're going to be messed up, no matter how your life turns out. Even if you achieve fame and riches, if you forfeit your soul, it won't profit you."
"Where are you in terms of the Lord, spiritually?" Dungy asked. "That's the most important thing in life."