Super Bowl Linebacker Shares Humble Testimony of Playing Through Heart Condition, 3 ACL Injuries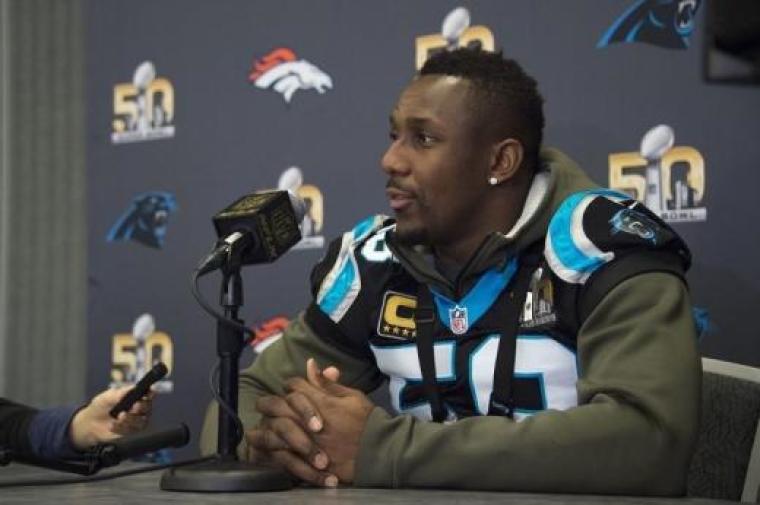 Carolina Panthers linebacker Thomas Davis is sharing his heartfelt testimony about a heart condition and three ACL injuries that he believes God helped him through on the journey to Super Bowl 50.
Davis, 32, underwent surgery two weeks before the Super Bowl and played in the big game with a cast on his broken right arm that was surgically repaired with 11 screw, a plate, and an arm full of stitches. Although the Panthers suffered a 24-10 loss to the Denver Broncos, Davis managed to combine for 17 tackles with fellow linebacker Luke Kuechly.
While some may question Davis' decision to return to the field with such a new injury and surgery, the NFL player revealed how his previous serious injuries strengthened his faith in God.
In a video called "Football Sunday" by The Increase, Thomas revealed that he volunteered at the Heart Of A Champion Day clinic in 2009 to encourage student athletes to get their health screenings. In trying to encourage others, doctors found that Davis had an abnormal coronary artery that would require open heart surgery.
"For me it was all about, God why is this happening to me? In the offseason I do a lot of work in the community," he recalled. "On an off day I'm volunteering to help the kids out and encourage them to not be afraid to come out and get these screenings done. I get these screenings done to get the kids excited and then the doctor says, 'oh you have a condition.'"
Since no one has come back to the NFL after having open heart surgery, Davis and his wife, Kelly, prayed that God would help the athlete avoid the surgery that doctors said he required.
"We prayed about it, asked God if there is a way for Him to prevent me from having surgery. They came to the conclusion that if something was going to happen to me and I was going to pass...it would have already happened to me," he recalled. "You don't just go from one day, from them setting up a surgery to two days later, you don't have to have surgery. I know that that was God."
Still, humbling injuries were not over for Davis. In the three seasons that followed, he managed to tear his ACL three times.
"Going from playing extremely well, being at your highest level and to be humbled just like that in one single play," he recalled. "The ACL tears in three years.. I didn't think I would be able to play. In this game, guys don't get that opportunity."
Kelly remembered leaning on God to help her husband through those tough times.
"I knew I had to be strong but the only way to do that was to talk to God, pray to God. And if he needed me to cry on my shoulder than let him cry," she said. "Once he got it out, there as no stopping him."
After enduring years of injuries, Davis received the 2014 Walter Payton Award last year. He believes all the hardships and struggles were all ordained.
"God strategically set all of that up for me to win the Walter Payton award. I knew by this happening to me I could motivate other people to want to fight and press through injuries and whatever they may face in life because it's already been written," he said in The Increase featurette. "You just have to follow the process, be willing to stick it out. You have to be obedient and you have to be willing to listen to God."
After injuring his arm last month, Davis vowed to heal enough in order to play at the Super Bowl.
"I'm going to do everything in my power to make sure I'm ready to go. I got two weeks to heal up, and I'm going to use every minute of that," he said in a Reuters report. "You know me, right? Man, I ain't missing the Super Bowl. If it comes down to a pain tolerance and playing through it, I'll be there."
Davis kept his word and showed fans on Instagram evidence of his injury by uploading a picture of his arm complete with dozens of stitches.
"This post is not about me, or how tough I am. It's not to shine any light on me or my injuries," he wrote. "Our team doctors and trainers did an amazing job giving me an opportunity to get back on the field. This post is strictly to show how much love I have for my brothers and #PantherNation. Thank you all for your support and we will #KeepPounding."