Top 10 Highlights From Trump's First State of the Union Speech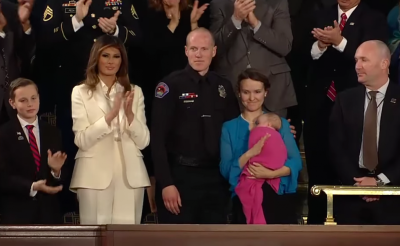 6. Saving an unborn child
When outlining the importance of fighting the "drug epidemic" in America, the president recounted the inspirational story of 27-year-old officer Ryan Holets of the Albuquerque Police Department, who attended the SOTU with his wife, Rebecca.
"Last year, Ryan was on duty when he saw a pregnant, homeless woman preparing to inject heroin. When Ryan told her she was going to harm her unborn child, she began to weep. She told him she did not know where to turn, but badly wanted a safe home for her baby," Trump explained.
"In that moment, Ryan said he felt God speak to him: 'You will do it — because you can.' He took out a picture of his wife and their four kids. Then he went home to tell his wife Rebecca. In an instant, she agreed to adopt. The Holets named their new daughter Hope."