Top 10 Political Scandals of 2011
The top 10 political scandals of 2011 were made up mostly of men behaving, or allegedly behaving, in sexually inappropriate ways. Other scandals that made the list included the Obama administration being involved in one of the biggest bankruptcies in U.S. history, and the Rupert Murdoch media empire being linked to cellphone hacking.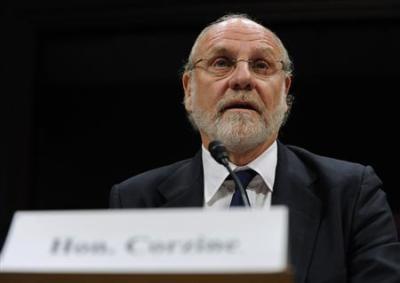 1. Jon Corzine and MF Global
Jon Corzine, a former U.S. senator, New Jersey governor and top fundraiser for President Obama, was involved in of the largest bankruptcies in U.S. history. Over $1.2 billion that belonged mostly to farmers in the United States has now mysteriously vanished. Corzine testified before Congress that he has no idea what happened to the money. On Christmas Eve, the Obama campaign returned all the donations it received from Corzine and MF Global.
2. Solyndra
Solyndra was the poster child for the Obama administration's effort to transform the nation's economy through the creation of more "green energy" jobs. The solar power company received about half a billion dollars in loan guarantees before it went bankrupt and its offices were raided by the FBI. The House of Representatives is still investigating whether the White House exerted inappropriate influence on the Energy Department to get the Solyndra loan approved.
3. Fast and Furious
The Justice Department led a sting operation in which they sold weapons to drug dealers, but did not track where those weapons went after they were sold. One of those weapons later showed up when it was used to kill a Border Patrol agent. The House of Representatives is attempting to find the highest ranking official who knew about the operation, but is having difficulty getting straight answers.
4. News of the World
News of the World, one of the largest daily newspapers in London, had hacked into the cell phone account of a missing teenager to try and get a scoop on the story. After the cell phone messages became full, they deleted some of the messages so they could get more messages. The parents of the missing teen took the deleted messages as a sign that their child was still alive when she had actually been murdered.
The company, owned by Rupert Murdoch, who also owns Fox News and The Wall Street Journal, has since been investigated for hacking into the phones of other celebrities and having a too-cozy relationship with police officers and members of Parliament. In the United States, the company has also been investigated by the FBI for allegations that it hacked into the phones of victims after the 9/11 terrorist attacks. Several top executives have resigned over the incident.
5. Herman Cain
Presidential candidate Herman Cain was twice accused of sexual harassment while he was head of the National Restaurant Association. A third woman, who remained anonymous, said she was also harassed but failed to report it. Republican voters did not seem to care much until Sharon Bialek held a news conference saying that Cain had groped her, and Ginger White said she had a 13-year affair with Cain. Voters then had concerns as the former frontrunner dropped in the polls. Cain withdrew from the presidential race shortly after White's accusations.
6. Anthony Weiner
Former congressman Anthony Weiner (D-N.Y.) initially denied that he had accidentally tweeted a photo of his erect genital covered only by his boxer shorts. He later admitted that his Twitter account had not been hacked and the photo was intended to be a private message to one of the six women that he had inappropriate electronic sexual relationships with. Weiner eventually resigned from office.
7. John Ensign
Former Sen. John Ensign (R-Nev.) had an extramarital affair with the wife of one of his staff. He then tried to pay the staffer to keep quiet about the affair. He resigned in April before the Senate Ethics Committee released a report saying that Ensign had violated several campaign finance laws and obstructed the committee's investigation into the affair.
8. Dominique Strauss-Kahn
Dominique Strauss-Kahn was head of the International Monetary Fund when he was accused of attempting to rape a maid in his New York City hotel room. He was widely considered to be the frontrunner to become the Socialist Party's presidential nominee in France's next election. The charges were eventually dropped after the accuser gave inconsistent testimonies about the alleged crime.
9. David Wu
Former Congressman David Wu (D-Ore.) had displayed several examples of erratic behavior, such as sending a photo of himself in a tiger costume to his staff. Many of his staff had urged him to seek psychiatric help and some of them resigned. He eventually resigned in July after reports that he had made unwanted sexual advances toward a teenaged girl.
10. Christopher Lee
Anthony Weiner's sexting scandal was followed by former Congressman Christopher Lee's (R-N.Y.) sexting scandal. Lee sent a shirtless photo of himself to a woman he met on Craigslist. The fact that he resigned quickly after the news broke, and he does not have a funny last name, meant that the story did not get as much attention as Weiner's.
The Christian Post Daily Report 01.02.12