'Torchlighters: Heroes of the Faith' Cartoons Prove 21st Century Kids Enjoy Church History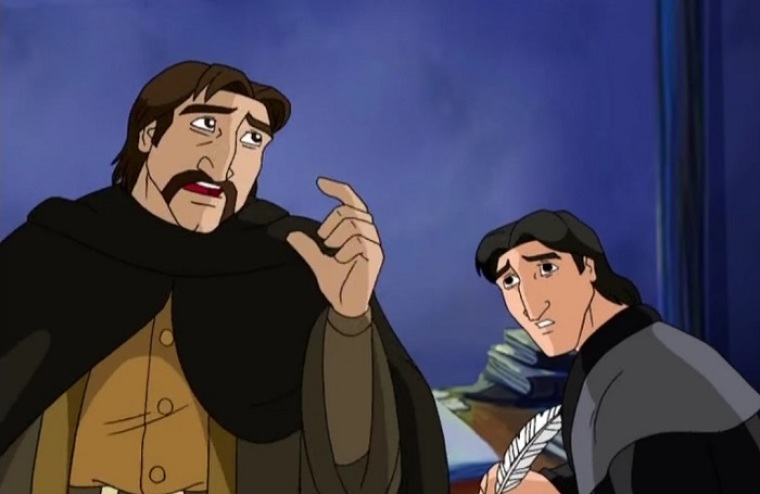 In the age of Disney, Pixar and $200 million animated blockbusters, a modest Pennsylvania-based ministry has — somehow — captured the hearts and minds of children with cartoons about church history.
The non-profit organization, the Christian History Institute, is set to release its 16th animated Torchlighters DVD later this year, more than a decade after its first release, "The Jim Elliot Story," proved that children's stories about heroes of the faith can compete against the likes of Toy Story, Frozen and Finding Dory in home entertainment.
Of course, the Torchlighters aren't as popular in the broader market as well-known films, but with more than 700,000 DVDs sold, the series has found a niche market that anxiously awaits new releases. Each one lasts 30 minutes.
"One huge advantage we have is that these stories are true," Dawn Moore, editorial director of the Christian History Institute, told the Christian Post. "We frequently hear that children are just amazed when they learn that these things actually happened, that they are not fictionalized as most stories now are."
The series has spotlighted popular heroes of the faith such as Augustine, Martin Luther and John Wesley, but also less well-known ones including Richard Wurmbrand, Robert J. Thomas and Adoniram Judson (this year's release).
It takes about two years to make each release, with roughly 30,000 hand-drawn images included in one episode. The Christian History Institute (CHI) also publishes curriculum and releases an adult-focused documentary about each hero. CHI is not aligned with any particular denomination but "adheres to the Apostles' Creed and seeks to present the history of the global church and to see the best in each Christian tradition," according to its website.
The Christian Post recently spoke with Moore about the history and future of Torchlighters. Following is a transcript:
CP: How did Torchlighters get started?
Dawn Moore: Sometime around the year 2000, our president [Bill Curtis,] was reading a biography of Gladys Aylward to his daughter, Michelle, on a family vacation. Deep in thought, Michelle responded that she would like to become a missionary. Bill realized that these stories have incredible power to change lives and began to dream of presenting them in a format that would reach more children.
CP: What are the goals with each episode? Are children primarily the target audience?
Moore: Children are definitely the primary audience, but we continually hear from teens and adults who love the Torchlighters and are impacted by them. Our goal is to present the lives of these heroes in a way that honors their legacy and will inspire others to live for Christ. The heroes themselves are really just ordinary people, who followed God with their whole self. We pray they continue to inspire a new generation to do the same.
CP: How is it determined who to spotlight?
Moore: We keep a list of heroes we'd like to cover and then pray and work together to really sense how God is leading us in the selection. We look for heroes who've had a lasting impact and whose life can be presented for our audience with a good measure of action. Since they are true stories, this is a challenge.
For instance, John Bunyan is primarily known for his work as the author of "Pilgrim's Progress." We really wanted to present his story, but had to find a way to do that and still keep the attention of children. We opted to weave in some scenes of "Pilgrim's Progress" to bring in the drama and add more action.
In each episode, we work hard to find the story points that will relate to children, while still maintaining the integrity of the hero's life.
CP: Do you fear the church is losing its knowledge of Christian history? Is that another impetus for these DVDs?
Moore: Absolutely. Helping the church reclaim her history is our primary goal at CHI. We do that through video, web and print resources, with the Torchlighters for children being one of our flagship projects. Because they include custom study guides, original documentaries, and Spanish language tracks, they are multi-purpose and reach a wide audience.
CP: Is it challenging to make these stories entertaining for children in a world of Disney, Pixar and video games? Or are these stories already amazing enough?
Moore: One huge advantage we have is that these stories are true. We frequently hear that children are just amazed when they learn that these things actually happened, that they are not fictionalized as most stories now are. Obviously, the Disney production budget is many, many times our own, but in terms of values shared and the potential for kingdom-building impact, the Torchlighters are off the charts.
CP: Please tell us about the curriculum.
Moore: When we were nearly finished our first episode, "The Jim Elliot Story," then-president Ken Curtis thought it would be nice to have some activities and questions to help parents and teachers get the most out of it. As a volunteer Christian education director at my church, I agreed and began working on that first guide, which we included on the DVD.
I happened to be attending a Christian writer's conference a few months later and took the guide along for a free review. The reviewer was very kind in her evaluation and pointed out that I had so much material in there that I should split it into four lessons! So, with the next episode on William Tyndale, I designed a four-lesson format that we still use today, though we've gotten better at it over the years.
When designing curriculum, we really try to look for unique teaching themes that emerge from the story. We try to incorporate fun attention-grabbers along with meaty Bible applications. And along with that we add a page of "dig deeper" questions that we hope will challenge the more mature students. My colleague, Kaylena Radcliff, has been a huge blessing in this area, as she has brought fresh ideas at just the right time. She now writes the guides and does a beautiful job.
CP: What is the future for Torchlighters?
Moore: This year we will release "The Story of Adoniram Judson," a very inspirational story of great personal hardship while working to reach the Burmese. And we just completed the script for the next episode, to release in 2018. It will be our first episode to take place fully on American soil, so we're pretty excited about that.
We want to continue making Torchlighter episodes as long as the Lord leads. The ministry has grown far beyond our wildest dreams as these programs are distributed and even broadcast worldwide. We pray that countless children and adults will become torchlighters themselves, as they learn to follow God's leading.
For more information, visit Torchlighters.org.
Michael Foust has covered the Christian film industry for a decade and has been a full-time editor and writer for 20 years. He blogs at
MichaelFoust.com
.
Follow him on Twitter @MichaelFoust
.