'Tortured For Christ' Movie to Premiere in Theaters Telling True Story Of One Man's Unwavering Faith
'Tortured For Christ' Movie to Premiere in Theaters Telling True Story Of One Man's Unwavering Faith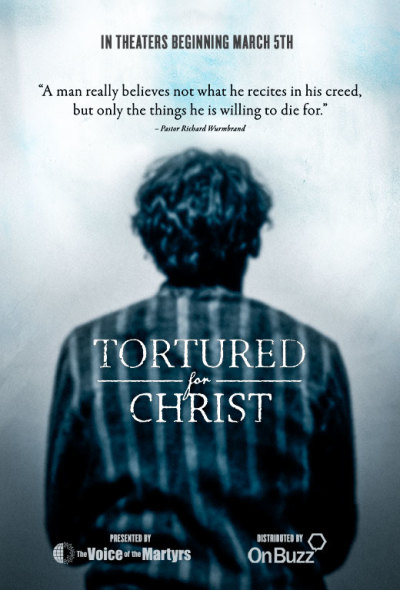 The Voice of the Martyrs presents "Tortured For Christ" the movie, a true-life cinematic retelling of the testimony of VOM founder Pastor Richard Wurmbrand, who kept his faith despite facing 14 years of torture in a communist prison.
The film will tell the powerful account written in Wurmbrand's international bestselling book, Tortured for Christ. The timing of the film lines up just in time to honor the 50th anniversary of the book's 1967 release.
In keeping the cinematic portrayal as real as possible, filmmakers shot the picture in Romania – in the very prison where Pastor Wurmbrand was tortured and spent so much time in solitary confinement. The dialogue will be presented in English, Romanian and Russian (with English subtitles) to also hold to the authenticity of this true story. All scenes were acted out rather than being in interview form.
Directed and Co-Written by John Grooters ("The Frontier Boys," "The Noah Interview," "That The World May Know"), Grooters brings the darkness Wurmbrand endured to all in the docudrama "Tortured for Christ." The award-winning Christian filmmaker said he worked to balance "realism and sensitivity."
Grooters work to date has been a reflection of his research with noteworthy theologians, biblical historians, archaeologists, teachers, writers and scientists in the Christian world.
"I've never encountered anyone who modeled love the sinner even while hating the sin better than Richard Wurmbrand. He was repeatedly tortured for his devotion to Christ – but he never abandoned his love for others – even his torturers. It's remarkable," Grooters saife in a statement shared with The Christian Post.
The filmmaker maintained that he sought to make a film with strong characters and an inspiring, faith-based story, which was brutal in the cold-weather winter backdrops. Grooters' aim was to keep it "gritty and honest" which was endorsed by the leadership at the Voice of the Martyrs. The leaders confessed that what Wurmbrand wrote about in his books can be seen in this film.
Author and evangelist Ray Comfort likewise praised the film.
"What a moving, powerful, and quality production! ... It has had a profound effect on my Christian walk," Comfort shared in the statement.
The script was comprised from some of Wurmbrand's books including, In God's Underground, If Prison Walls Could Speak, Marx & Satan, and of course Tortured for Christ. As well as inspiration from his wife, Sabina Wurmbrand.
"When you are writing first-person dialogue from the voice of a man with the wisdom and intellect of Richard Wurmbrand, you are best to use his actual words as often as possible. The vast majority of the dialogue spoken in the film by Richard or Sabina Wurmbrand was lifted from the pages of their books. That is one reason why the people who have seen the film and who knew the Wurmbrands have said that we captured them faithfully," Grooters maintained.
"Tortured for Christ" hits theaters March 5, 2018. For more information visit TorturedforChrist.com.
Follow Jeannie Law on Twitter:
@jlawcp