Georgia town rescinds citation for man holding 'God bless the homeless vets' sign at City Hall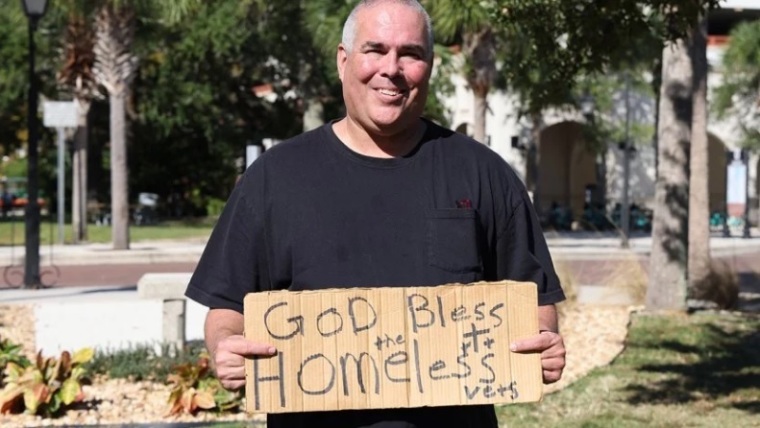 A city in Georgia has voted to revoke a local ordinance that was recently used to punish a man who carried a sign that read "God bless the homeless vets" outside city hall as part of a legal settlement for a First Amendment rights lawsuit.
At their June meeting, the Blackshear City Council agreed to amend their Parades and Demonstrations Ordinance so that individuals do not have to receive advanced approval from the mayor or city council to demonstrate on public streets and sidewalks.
The issue stemmed from the ordinance being used to give a citation to U.S. Army veteran Jeffrey Gray in August 2021 for standing outside of Blackshear City Hall with a sign that read "God bless the homeless vets" without getting a permit, per the rules of the ordinance.
According to a settlement made between the two parties in May that was recently made public, while the Blackshear City Council was not named in Gray's lawsuit, it wanted "to remove controversy and resolve all disputes and claims raised in the Lawsuit."
City officials also agreed to rescind Gray's citation and donate $1,791 to the National Coalition for Homeless Veterans, while Gray agreed to drop the lawsuit.
The Foundation for Individual Rights and Expression, which helped represent Gray in collaboration with the University of Georgia Law School's First Amendment Clinic, celebrated the settlement in a Thursday statement.
"It's a new dawn in Blackshear," said FIRE attorney Harrison Rosenthal. "Americans don't need a permission slip to speak in front of city hall. The First Amendment is their permission slip."
A separate lawsuit against the City of Alpharetta, Georgia, remains in litigation.
In January, Gray filed lawsuits against Alpharetta and Blackshear Police Department Chief Chris Wright over mistreatment he experienced while carrying a sign that read "God bless the homeless vets."
The complaint against Alpharetta was filed in U.S. District Court for the Northern District of Georgia, Atlanta Division, and named as defendants Arick Furr and Harold Shoffeitt of the Alpharetta Department of Public Safety. The case centers on an incident where Gray was arrested and charged with violating Alpharetta's anti-panhandling policy.
The suit against Blackshear Police Chief Wright was filed in U.S. District Court for the Southern District of Georgia, Waycross Division, in response to Gray being cited for allegedly violating an ordinance against "holding a 'parade, procession, or demonstration' without the Blackshear City Council's permission."
"But the First Amendment is Gray's permission slip. Indeed, a half century ago, the United States Supreme Court made this clear by striking down an almost-identical ordinance in Birmingham, Alabama," read the complaint.
"The Supreme Court ruled that the ordinance violated the First Amendment by giving local officials unbridled discretion to deny permits to hold 'a parade, procession or other public demonstration.'"