Man arrested for holding 'God bless the homeless vets' sign sues city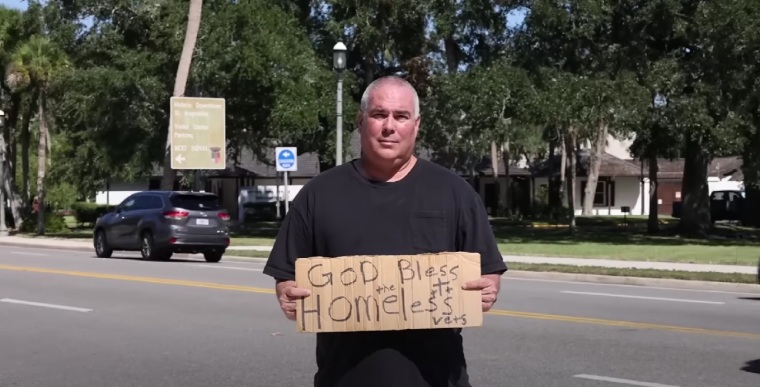 A U.S. Army veteran and former truck driver has filed a lawsuit against a city in Georgia after he was arrested for holding a sign that read "God bless the homeless Vets."
Jeff Gray filed two lawsuits on Tuesday over being reportedly harassed for carrying the sign, with one suit being against the city of Alpharetta while the other was against Blackshear Police Chief Chris Wright.
The suit against Alpharetta was filed in U.S. District Court for the Northern District of Georgia, Atlanta Division, and named as defendants Arick Furr and Harold Shoffeitt, both of the Alpharetta Department of Public Safety.
At issue was an incident in which Gray was detained, arrested and charged with allegedly violating the city's anti-panhandling policy, with Gray being banned from the area.
"Gray's speech about the plight of homeless veterans — whether 'panhandling' or not — and his subsequent questioning of Lt. Furr's actions, was clearly established as protected political expression," stated the complaint. "Even if Gray was 'panhandling,' it is clearly established that the First Amendment protects speakers asking others for help."
The suit against Wright was filed in U.S. District Court for the Southern District of Georgia, Waycross Division, with Gray being cited for allegedly violating an ordinance against "holding a 'parade, procession, or demonstration' without the Blackshear City Council's permission."
"But the First Amendment is Gray's permission slip. Indeed, a half century ago, the United States Supreme Court made this clear by striking down an almost-identical ordinance in Birmingham, Alabama," read the suit, in part.
"The Supreme Court ruled that the ordinance violated the First Amendment by giving local officials unbridled discretion to deny permits to hold 'a parade, procession or other public demonstration.'"
For his litigation, Gray is being represented by the Foundation for Individual Rights and Expression, a civil liberties group that originally focused solely on First Amendment issues in education.
"Jeff Gray doesn't need a government-issued permission slip to speak — the First Amendment is his permission slip," said FIRE attorney Harrison Rosenthal, in a statement released Wednesday.
"Speaking out in public areas is a core First Amendment right, whether government officials recognize it or not. If our cities won't teach officers to do their job properly, FIRE will."
Gray operates the YouTube channel "HonorYourOath Civil Rights Investigations" in which he describes himself as a "civil rights investigator, First Amendment auditor, Second Amendment auditor."
In 2021, Gray filed a complaint against officials with the city of Moultrie, Georgia, after he was charged with disorderly conduct in 2019 when he walked around city hall with a sign that read "F— City Hall," according to the Moultrie Observer.