Trai Byers Exclusive: 'Empire' Star Andre Talks Backlash, Making People in Hollywood Uncomfortable With His Faith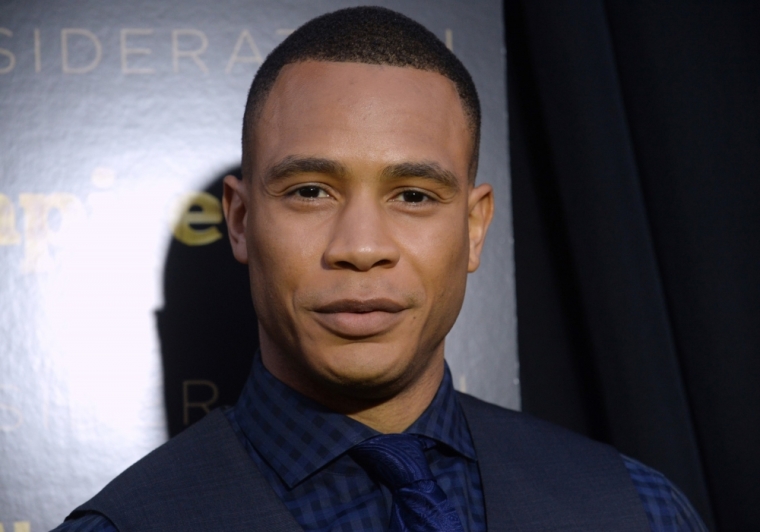 Trai Byers has kept viewers on the edge of their seats as "Andre Lyon" in FOX's hit drama "Empire," but the actor is focused on a different type of inheritance than the fictional bipolar character who's scheming to take over his family's business in the show.
Byers, 31, has acting chops that are hard to deny after his formal training at The Yale School of Drama. Still, learning to deal with newfound celebrity might be something best learned by experience, and Byers has had to lean on his Christian faith while he adjusts.
When "Empire" premiered on FOX over nine weeks ago, people viewed Byers' character as a villain without knowing the depth of his story, which includes unresolved childhood issues, a bipolar disorder, and being potentially ousted from a music empire he helped to succeed on a corporate level. Byers began to receive threats from fans who likened the actor to the character he portrays on television, which reminded him to practice his faith.
"On social media and on the street people were saying, 'If I see Trai on the street, I'm going to slap him in the face.' Whether it's true or not, it's not a good thing to hear," Byers told The Christian Post. "Ultimately, knowing God and reading the Word, it helps with patience with people, understanding, empathy and sympathy that they might not have that I have. If God gave it to me, why not exercise it?"
Weeks later, it seems Byers' patience paid off after people familiar with the struggles of mental illness began to thank him for his realistic approach on the show. With Nielsen reporting that nearly 15 million people tuned in to watch creator Lee Daniels' "Empire," Byers understands the responsibility that comes along with the platform he was given.
"I know a part of my journey now, the reason I'm an actor now, the platform that I have now. I'm supposed to share the Lord with people. All of us are disciples on some level," he told CP. "You don't have to be behind the podium to tell a story, connect with people and share the Gospel."
For that reason, Byers is not shy about speaking about God in mainstream interviews while doing press for his hit TV show. He made headlines last month after revealing he previously questioned if God was calling him to be a pastor while on "The Meredith Vieira Show."
After he was misquoted in some media headlines, the actor received some flack from those who were not able to hear the full story that he briefly spoke about on the talk show. Byers spoke to CP about the period of time in 2013 when he was short on money and was having trouble securing an acting gig.
"You cannot call yourself to be a pastor, 100 percent. What was happening to me was in my time when I needed help, God was sending me to help others," Byers shared with CP. "People were coming to me from all over the place and I'm ministering to them through the Word. As a Christian brother who knows the Word, I was like, 'OK God, if this is what you want me to do, I'm open to doing that.'"
Byers said he would never call himself to become a pastor, but could not ignore God telling him to teach and preach to others during their times of need either. Ultimately, God had something else in mind for Byers, which resulted in him appearing in the acclaimed feature film "Selma" late last year followed by "Empire."
Despite studying at a distinguished acting school, Byers' success did not come overnight. However, he held firm to the foundation of his faith during his period of waiting and actively sought God before seeing evidence of His blessings.
"I felt success on me, and I was wondering why it wasn't manifesting itself in the way I thought it would. And it was just a war between flesh and spirit. But ultimately, God got me to a place where I delved deeply into the Word," Byers explained. "I've read the Bible before, a couple of times cover to cover. Some things stuck with me and some things didn't, but it was time for me to really get to know God."
The budding actor did just that by focusing on scriptures such as Psalms 117 and 118, which he learned by heart along with Matthew 6. He also read minister Joyce Meyer's book Battlefield of the Mind: Winning the Battle in Your Mind three times consecutively.
Now that he has secured notable roles such as student civil rights activist James Forman in "Selma," followed by Andre in "Empire," Byers insists there is a bigger picture being painted.
"It's working out for the purpose of His glory. If I weren't doing my job and saying 'thank the Lord, God is good' everywhere I go, I think I would be doing a disservice to Him," Byers told CP. "Who knows how long this life would last. Wherever I am, whether I'm an actor, whether I'm a teacher or whatever ... I'm going to shout to the heavens until it's over because it's not about us, it's about Him."
Byers' unwavering faith began at a young age. Since his father is in the military, he and his sisters were baptized before their family moved to an Air Force base in the Philippines where his father was stationed.
Although he grew up knowing basic Christian values taught in Sunday School, it wasn't until the age of 15 that Byers learned the importance of a close relationship with God. At 15, a gun was pointed at Byers' head in an unfortunate circumstance that made him realize God spared his life.
"That night I wasn't able to sleep, I felt something very heavy on me. Like, 'You're not supposed to be here, Trai. I saved you Trai,'" he recalled. "I reconciled with my life some of the things I was interested in as a teenager that I shouldn't have been interested in. God turned me around just like that — with the snap of a finger, and I've been a hardcore Christian advocate for God ever since."
Now that he is making a name for himself in Hollywood, Byers admits some people are uncomfortable with him wanting to speak boldly about his faith. Still, the actor has no intentions of hiding who he is to fit in with Hollywood.
"I had people come to me and say I'm talking about God and pull me to the side and say, 'Put that Bible down.' And I'd start talking even more because that's the purpose I'm here for," Byers told CP. "I can't drop my God to fit in, and I won't. God is building an army all over the place, in Hollywood as well. So it feels good to be a part of it."
You can catch Trai Byers on the two hour season finale of "Empire" at 8 p.m. ET on FOX.