Trayvon Martin's Killer, George Zimmerman, Helps Save Family in Car Crash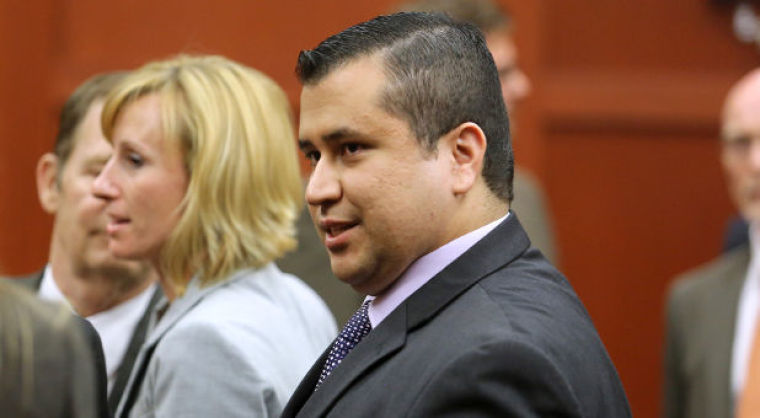 Trayvon Martin's killer, George Zimmerman, risked his life and came out of hiding last Thursday to help save the lives of a couple and their two children after a vehicle in which they were traveling overturned on a highway in Sanford, Fla., just under a mile from where he reportedly shot the teen.
According to an ABC News report, Zimmerman was one of two men who helped save Dana and Mark Gerstle and their two children after a crash at the intersection of I-4 and Route 46 caused the family's blue Ford Explorer SUV to overturn, leaving them trapped inside.
According to the police, Zimmerman had already assisted the family out of the overturned vehicle by the time they arrived on the scene and no injuries were reported.
As he was not a witness to the accident, Zimmerman left the scene after speaking with police.
This is the first known sighting of Zimmerman, 29, since he was acquitted of murder charges related to the controversial death of young Martin. Zimmerman, a former neighborhood watch captain, shot and killed Martin, 17, in Sanford on Feb. 26, 2012. He claimed self-defense. A six-woman jury found him not guilty of murder just over a week ago and since then he has been in hiding after numerous threats were reportedly made against his life.
His acquittal has resulted in numerous street protests across America and his lawyers say he has been wearing a bullet-proof vest in public.
Even his parents, according to ABC News, have received death threats and they say they haven't been able to return to their homes since the acquittal.
"We have had an enormous amount of death threats. George's legal counsel has had death threats, the police chief of Sanford, many people have had death threats," Zimmerman's father, Robert Zimmerman, told ABC News. "'Everyone with Georgie's DNA should be killed' -- just every kind of horrible thing you can imagine."
In a snapshot of the heat Zimmerman is now facing, Lori Tankel, of Winter Park, Fla., told ABCNews.com that her cell number had been mistakenly circulated as belonging to Zimmerman and since the not guilty verdict was reached on July 13, she has been the recipient of a flood of threats.
"They were saying things like, 'Zimmerman? Is this George? We're going to get you, we're going to kill you,'" she said.
Tankel said she received at least 80 phone calls within the first 24 hours of the verdicts and she continues to get them even though they have tapered off somewhat.
"Those phone calls were extremely malicious," she said. "I think at that point, they kind of knew it wasn't George Zimmerman's number, but they were still going to harass me."
George Zimmerman Saves Family In A Car Wreck! (ORIGINAL VIDEO)