'Trolls Band Together' celebrates togetherness with a side of caution for young viewers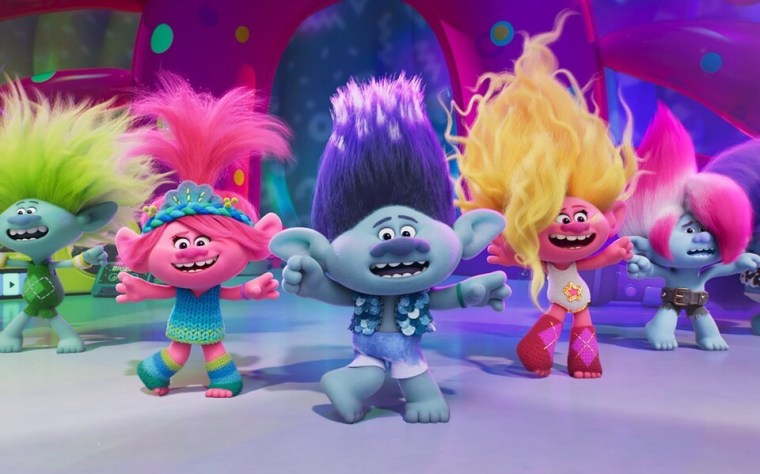 In the latest animated adventure, "Trolls Band Together," the vibrant and musical world of the Trolls returns with a focus on family ties and the power of unity — but despite its overall family-friendly tone, the film includes some content that might encourage parents to proceed with caution.
In "Trolls Band Together," Branch and Poppy, now a bona fide troll couple, "Broppy," take a back seat to the nuptials of Poppy's best friend, Bridget, and her Bergen beau, King Gristle. Their monster past is long forgotten as they are warmly embraced by Pop Village.
However, the wedding bliss is interrupted by the arrival of Branch's long-lost brother, John Dory, formerly of the boy band BroZone, which, to Poppy's shock, Branch was also a member of. The reunion is short-lived as they must rescue their fellow bandmate and brother, Floyd, who is in grave danger. 
This time around, the villains aren't the Bergens; they're a brother-and-sister pop duo named Velvet and Veneer, who seek to steal talent through magical means — sucking the vocal abilities out of the trolls. It's up to the estranged Troll brothers to create the perfect harmony that will ultimately free their brother from the evil duo's clutches. 
Poppy, Branch, and their friends embark on a mission that uncovers family secrets and underscores the film's celebration of family and the bonds of friendship.
"Family and marriage are two of the most important things to me," director Walt Dohrn told The Christian Post. "We started this movie during the pandemic, and I think at that time, we were all kind of really close with our family, or we were stuck apart from them. And we really started talking about that dynamic, and how important it is, how irreplaceable family is. But also, sometimes being in a family is hard. We thought, wouldn't it be great if this movie dealt with those personal issues and what it's like to have siblings, what it's like to be with our parents or be apart from our siblings."
What's good about the movie
"Trolls Band Together" navigates through family disagreements and the challenges of forgiveness in an effort to highlight the message that family is enduring and worth the effort: "We do not need to be perfect as long as we're in harmony," one character says. Poppy, ever the optimist, constantly reminds Branch of the importance of family, no matter how fractured. 
"I think, as we get older and we get more wrapped up in our point of view and our opinions, I think sometimes we forget the power of needing to connect with others," Dohr said. "We have this great allegory of harmony; music, notes that fit together that create this larger, beautiful chord together. It's the brothers harmonizing that will give them the power to save their brother, Floyd. So we thought, well, that's really beautiful. You can't harmonize by yourself. Harmony is that togetherness."
According to Dohr, the villains in "Band Together" were meant to serve as a commentary on celebrity culture and the pitfalls of seeking fame without effort in a social-media-obsessed age. 
"I have kids from 6 to 25, and I've noticed that among kids, there's a general desire for celebrity or for fame, but it takes a lot of work. We thought, 'Wouldn't it be interesting to take our villains who just want fame and celebrity but don't want to do the work?' We started talking about this culture of TikTok, which has to do with a kind of instant celebrity. We are not saying these things are bad, but we're saying, 'Take a look at how you can use this for good' and underline the amount of effort and work it takes to be recognized on this kind of large scale."
The movie also tackles the universal experience of fear and how it takes optimism, bravery and togetherness to overcome fear. 
"From my own experiences, fear as a kid, especially, really ran my life," Dohrn said, adding that he hopes this installment of "Trolls" encourages open discussions about fear within families and provides a safe space for such conversations.
Areas where parents should take caution
While the film is filled with lighthearted humor, some jokes are tailored more toward adults and include sexual innuendo. Bridget and King Gristle make out, and in one scene, she suggestively tells her groom, "I didn't think we'd both get tied up this honeymoon." There is also some potty humor and mild language, including hell, and four or five exclamations of "oh, my gosh" and one of "g*d!"
There are also subtle references to drugs: Infant Tiny Diamond offers Branch hits of his pacifier as if it were an opium pipe. The BroZone bus, Rhonda, features a "hustle" button, which, when pushed, transports its riders into a trippy, psychedelic animated sequence. The film also features some cartoon violence and scary situations, including a mechanical clown with sharp teeth that nearly crushes Bridget and King Gristle.
Dohr told CP filmmakers wanted to make the film appeal to all ages with its humor, though acknowledged that "balance can be tricky." While the film aims to be inclusive, parents might want to be prepared to navigate questions from younger viewers.
"Being funny is important, but making sure we don't offend anybody is important too," Dohr told CP. "But it can be dangerous, but I think sometimes the shock, the surprise of the joke, is what makes you laugh. So we tried to walk that line."
With its mix of colorful escapades and musical performances, including a highly-anticipated pop hit from NSYC, "Trolls Band Together" presents itself as a family-friendly film that balances entertainment with life lessons, though parents should be aware of — and be prepared to address with their children — the mild suggestive content and occasional adult-oriented humor.
"Trolls Band Together" is rated PG for "some mild rude humor, some suggestive humor" by the MPAA.
The film features several well-known celebrities, including: Anna Kendrick, Justin Timberlake, Camila Cabello, Eric Andre, Amy Schumer, Andrew Rannells, Troye Sivan, Daveed Diggs, Kid Cudi, Zosia Mamet, Zooey Deschanel, Christopher Mintz-Plasse, RuPaul Charles, Aino Jawo, Caroline Hjelt, Kenan Thompson, Anderson Paak, Kunal Nayyar and Ron Fuches.