Review: Chatty and derivative, 'Nefarious' makes demonic possession sort of boring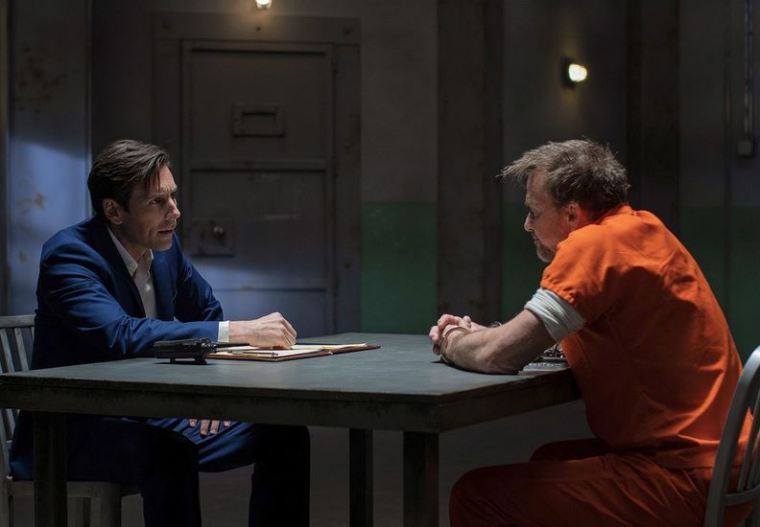 Can a "Christian movie" also work as a psychological thriller? Maybe, if you enjoy drawn-out, meandering conversations at the dinner table. 
That's the response at least some audiences are likely to have after watching Nefarious, the "faith-tinged" supernatural thriller starring Sean Patrick Flanery and Jordan Belfi, which earnestly attempts — and ultimately fails — to make the topic of demonic possession conversational enough to last a feature-length film. 
From the filmmaking team behind 2014's God's Not Dead, Nefarious centers on Edward Wayne Brady, a convicted serial killer, played by Flanery, who is required to undergo a psychiatric evaluation from Belfi's Dr. James Martin prior to his scheduled execution. 
As the two square off across a table in Edward's prison cell, the film launches into an extended seated dialogue that lasts for nearly 40 of the film's 98 minutes. During the evaluation, Edward reveals he is actually a demon named Nefarious who wants to be executed, uttering forgettable lines like, "Death doesn't scare me, James … because I can't die. You see, James, I'm a demon."
Later in the protracted conversation, Edward/Nefarious offers James "the world and everything in it" in a bargain reminiscent of the devil's offer to Jesus — whom Edward refers to as "the Carpenter" — if only He would bow down in worship.
When James reminds Edward about Jesus' rejection of that offer, Edward adds, "The Carpenter never claimed those things weren't my master's to give. He just turned down the offer."
The extended tabletop chat is broken up by a visit by a Catholic priest wearing a rainbow-colored scarf who informs Edward that, contrary to Catholic Church history, the majority of cases described as demonic possession are linked rather to mental illness.
Like much of the rest of the film, the exchange between Edward and the priest feels borrowed and undeniably evokes far darker (and more interesting) fare like William Friedkin's 1973 classic The Exorcist and 1991's Oscar-winning The Silence of the Lambs.
In fact, even Flanery's portrayal of Edward/Nefarious, which is easily the most interesting thing about the film, tends to flirt with caricature depictions of possession, contrasted, however unfairly, with Anthony Hopkins' turn in Silence, whose Hannibal Lecter, every bit of a demonically possessed serial killer, seethes with controlled malice that dwarfs the overly nervous tics and twitches of Flanery's performance.
Belfi, as the unbelieving Martin, does a competent job of positing his character as the skeptical lens through which we view Flanery's claims, while writer-directors Chuck Konzelman and Cary Solomon take a measured, if unnecessarily protracted approach, to introducing audiences to both main characters. 
"If we've done our job right," the filmmakers said in a statement, "then after watching this film, you will be convinced of the possibility of a personal, supernatural force of darkness who drives the evils of this world. What you decide to do with that knowledge will be up to you."
With its unapologetic homage to C.S. Lewis' "The Screwtape Letters," the film instead takes subject matter which clearly captivates the imagination of believers and non-believers alike — demonic possession — and somehow sanitizes it through the banality of a conversation.
Still, with what can only be described as excessive dialogue, even at key points where Edward explains the rules of engagement in the spiritual war being waged across the universe, it feels like the second scene of the film takes up the entire first act — because it does. 
Inspired by the book A Nefarious Plot by New York Times bestselling author Steve Deace, the film's fatal flaw is perhaps best encapsulated in its final scene, in which Belfi appears on a talk show hosted by Glenn Beck, an uncredited cameo that serves to confuse, rather than clarify, the storyline which precedes it. 
With credits like God's Not Dead and Unplanned, the filmmaking duo of Konzelman and Solomon certainly have the chops to take controversial subject matter and filter it through a compelling storyline for maximum impact with audiences, but with Nefarious, it's hard to argue that they've accomplished that challenging feat.