Netflix adaptation of 'All the Light We Cannot See' WWII bestseller highlights 'triumph over evil'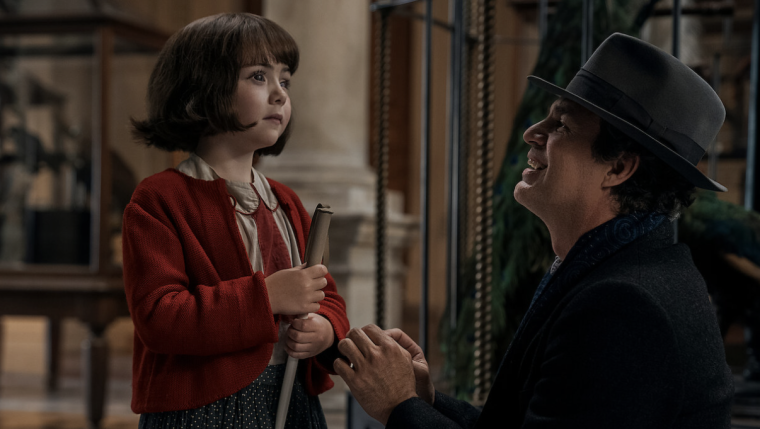 All the Light We Cannot See, the Pulitzer Prize-winning bestselling novel that follows a young blind French girl and German boy as they attempt to survive the devastation of World War II, is hitting the big screen in an "unabashedly human and emotional" way, according to director Shawn Levy.
Based on the book by Anthony Doerr, "All the Light We Cannot See" is hitting Netflix on Nov. 2 with four hour-long episodes starring Hugh Laurie, Aria Mia Loberti, Mark Ruffalo and Nell Sutton. 
In an exclusive sneak peek of the series, Levy ("Stranger Things") described the book as "remarkable" and having a "rich tapestry of characters and events" that will resonate with viewers.
"The story is both timeless and timely, unabashedly human and emotional," he says. "It captured a certain epic scale that we've been truly privileged to bring to life … I approached the crafting of this series like a four-hour film."
"All the Light We Cannot See" follows the story of Marie-Laure, a blind French girl and her father, Daniel LeBlanc, who flee German-occupied Paris with a priceless diamond to keep it from falling into the hands of the Nazis. While pursued by a Nazi officer who seeks to possess the stone for his own selfish means, Marie-Laure and Daniel find refuge in St. Malo, where they take up residence with a reclusive uncle who transmits clandestine radio broadcasts as part of the Resistance. Here, Marie-Laure meets Werner, a brilliant teenager enlisted by Hitler's regime to track down illegal broadcasts. The two strike up a friendship that highlights the power of human connection in even the darkest of circumstances. 
"It's a story about love and survival and triumph over evil," Ruffalo said. "This material is precious and unique. If you follow that, then what you will make is precious and unique in the spirit of that."
The Netflix series also marks the first production of this size and scope to cast blind roles authentically with blind actors. Both Nell Sutton, the actress who plays young Marie-Laure, and Loberti are vision-impaired.
"Aria is someone who understands this character in her soul," Levy said. "She's never auditioned; she's never thought about being an actress. And she got the part to have Marie played by someone who understands what it is like to walk that road. For the young Marie, I found Nell. Aria and Nell stepped up and deliver on that beautifully."
Released in 2014, All the Light We Cannot See was on The New York Times bestseller list for over 200 weeks and sold over 15 million copies. The book has been praised by Christian critics for elevating kindness and the goodness of humanity in the face of unthinkable evil. 
"The story of war effects and changes in the trajectories of the lives of these two curious people who just want to learn things, and the war prevents them from doing so," Doerr said. 
"It's really moving to see people really putting their hearts and souls and time into something like this and to see it come to life. It's really special."
Doerr, who was raised Catholic, previously credited Christian author C.S. Lewis as being one of his earliest literary influences. 
"My mom read [The Chronicles of Narnia] to my brothers and me and the books blew me away," he told Bat City Review. "I remember I kept asking her how they were made. How did these people make this world? It was so intoxicating — the idea that with these cheap materials, you could generate elaborate pictures in someone else's mind. It really sounds like magic when you put it like that. There's something magical about trying to make up stories and using language to do it."
In a previous interview with The Christian Post, Levy, a father himself, said he's always loved movies, film and television shows that "can be for everyone," adding: "It doesn't mean that I make movies to pontificate or to preach about a certain set of values. But I do believe in the value of family connection, and I make movies that show those connections, and my real goal is to make movies that foster those connections."
"I like movies and shows that we can watch together, and I know how rare they are," he said. "I don't know what happened to that genre. But if you show me a movie that I can watch with my daughter and my dad, that can span generations, that's a gift to us as a family because that becomes a shared experience that becomes a shared family memory."
"All the Light We Cannot See" hits Netflix Nov. 2.