Tropical Storm Hermine Live Tracker: New York City in Projected Path (Latest Map)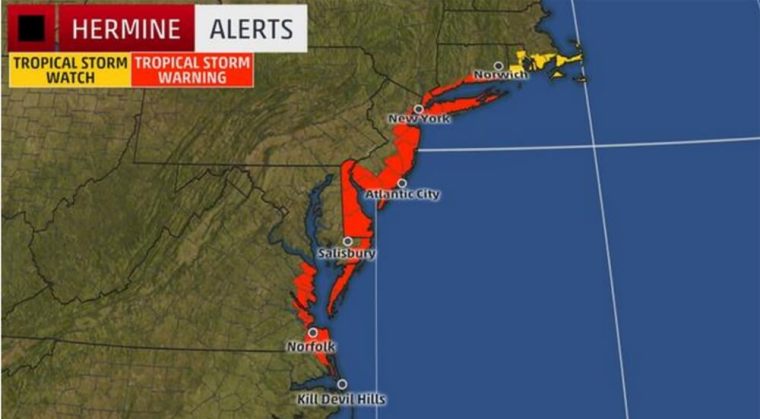 Having passed over North Carolina's Outer Banks, the powerful and dangerous Hermine storm, which has claimed at least two lives in Florida and North Carolina, shook the U.S. Middle Atlantic Coast early Sunday, leading to high winds, heavy rains and surging seas and drawing nearer to New York and New Jersey.
A Tropical Storm Warning remains in effect for Southern Fairfield, Southern New Haven, Southern Middlesex, Southern New London, Hudson, Eastern Essex, Eastern Union, Southern Westchester, New York (Manhattan), Bronx, Richmond (Staten Island), Kings (Brooklyn), Northwestern Suffolk, Northeastern Suffolk, Southwestern Suffolk, Southeastern Suffolk, northern Queens, northern Nassau, southern Queens and Southern Nassau.
Early Sunday morning, Hermine was centered about 240 miles southeast of Ocean City, Maryland, according to ABC News.

Currently considered a post-tropical cyclone, Hermine was earlier classified as a Category 1 hurricane until it lost strength while cutting across Florida and Georgia, but forecasters expected winds to return to hurricane force of more than 74 mph by Sunday evening, according to Reuters.
While this storm will likely not be nearly as large as Superstorm Sandy, you don't need a storm as large as Sandy to be destructive, and moderate to locally major coastal flooding is still expected along parts of the East Coast, reported The Weather Channel, adding that Hermine's wind field is likely to expand a bit Sunday into Monday, which means an uptick in its capability to generate waves and still a chance some of those stronger winds are able to bend back toward the coast.
"Hermine is moving towards the northeast and is expected to turn northward later today, followed by a turn northwestward late Sunday night," ABC News meteorologist Dan Manzo said. "It is during this time period that we expect the most significant impacts from Hermine along the Northeast coastline...Life-threatening storm surge is expected within the next 36 hours from Virginia to Sandy Hook, New Jersey."
The National Hurricane Center forecast the storm would turn northeast and north later on Sunday, eventually moving to about 100 miles south of Nantucket Island, Massachusetts, by Wednesday evening, and continue on an east-northeast track over the following 24 hours.