Tropical Storm Julia Tracker: Projected Path Latest Map (Video Updates, Photos)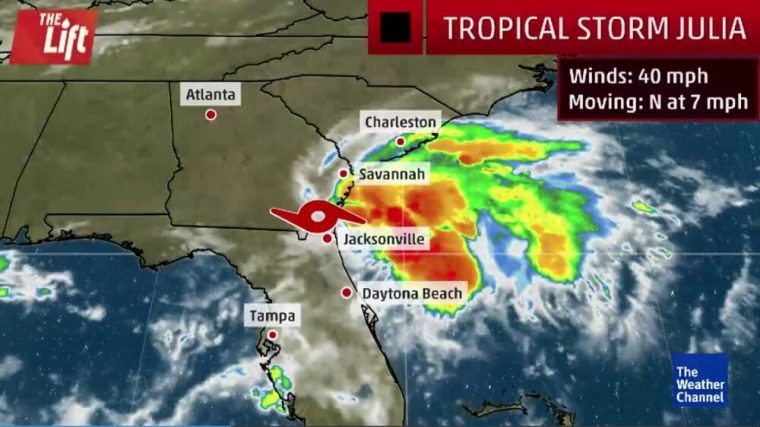 Tropical Storm Julia, bringing the threat of flash flooding and anywhere between three to six inches of rain to the northeast coast of Florida and southeast Georgia, became the first tropical storm to form over land in Florida since records have been kept, reports on Wednesday said.
CBS Miami reported that the National Weather Service has no previous records of such an occurrence over land in Florida, while the National Hurricane Center warned that an isolate tornado could hit coastal Georgia and southern South Carolina.
The Weather Channel noted that Julia formed late on Tuesday, and on Wednesday morning was spinning inland across southeast Georgia, closing in about 10 miles west of Brunswick.
Heavy rainfall and flooding have so far been identified as the main threats, with isolated rainfall in some places holding the potential of reaching up to 10 inches.
"Gradual weakening is forecast during the next day or so, and Julia is expected to weaken to a tropical depression later [Wednesday]," the NWS said.
NWS added that dangerous wind gusts of 55 mph (90 kph), along with the rainfall, could result in evacuation orders in the low-lying areas near the shoreline and along waterways from Jacksonville, Florida, to Brunswick.
"These wind speeds are the equivalent of a strong afternoon thunderstorm or a very strong local northeaster but will last for several hours," the weather service said, according to Reuters.
Florida Gov. Rick Scott warned residents to be prepared and ready with an evacuation plan.
"We know that heavy rainfall is expected across northeastern Florida between Daytona Beach and the Florida – Georgia border for the next several days," Scott said.
Scott also expressed concern over the Zika virus, that has been known to cause babies to be born deformed, and urged residents to dump standing water in an effort to control the mosquito population.
Florida is still recovering after parts of the state were flooded by Hurricane Hermine back in August, which led to two deaths nationwide, one in Florida and the other in North Carolina.
Hermine was the first hurricane to hit Florida in more than a decade. The state has suffered heavily in previous landfalls, with Hurricane Wilma causing five deaths and nearly $23 billion in damage back in October 2005.
Watch updates on Tropical Storm Julia here.