Trump Apologizes for Retweeting Anti-Muslim Britain First Tweets in Piers Morgan Davos Interview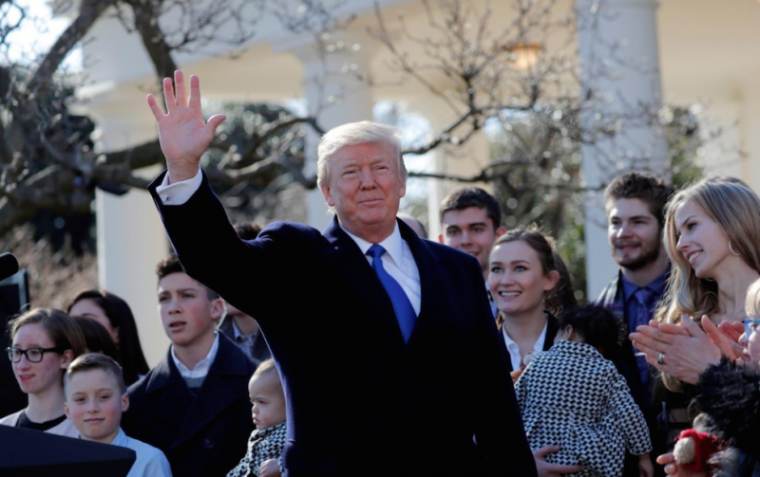 Speaking to "Good Morning Britain" co-host Piers Morgan in an interview in Davos, Switzerland, President Donald Trump apologized for retweeting three videos posted by a far-right political group in the U.K. last year.
"If you're telling me they're horrible racist people, I would certainly apologize if you'd like me to do that," Trump told Morgan, referring to three videos posted by a far-right and ultra-nationalist political group, British First, which he retweeted in November 2017, according to CBS News.
Two of the videos Trump retweeted showed "Muslims pushing a teenage boy off the roof of a building and subsequently beating him to death, and another showing [a Sharia law judge of the al-Qaeda-linked Nusra Front in Syria] destroying a statue of the Virgin Mary," The Daily Wire reports. 
The video of Muslims pushing a boy off a roof was real and the men who killed him were supporters of the Islamist Muslim Brotherhood in Egypt, according to CBS News.
But the third video Trump retweeted that purported to show a Muslim teenager beating up a blonde boy on crutches that was posted by Britain First's Vice-Chairman Jayda Fransen was actually of a Dutch boy beating up another Dutch boy.
Morgan told Trump that he caused "huge anxiety and anger in my country, because Britain First is basically a bunch of racists, fascists."
"Of course I didn't know that," the president responded. "I know nothing about them (Britain First), I know nothing about them today, other than I read a little bit. … Certainly I wasn't endorsing anybody. Perhaps it was a big story in the U.K., but in the United States it wasn't a big story. I am the least racist person that anybody is going to meet. When you do those retweets they can cause problems because you never know who's doing it to start off with."
The videos, posted by Jayda Fransen, deputy leader of Britain First, depict purported Muslims attacking people. One of the videos showed Muslims vandalizing a statue of the Virgin Mary, and another showed a young "Muslim migrant" attacking a boy on crutches.
After Trump retweeted the videos, a spokesman for British Prime Minister Theresa May said: "It is wrong for the president to have done this. Britain First seeks to divide communities through their use of hateful narratives which peddle lies and stoke tensions. They cause anxiety to law-abiding people."
White House press secretary Sarah Sanders sought to defend Trump at the time, arguing that it doesn't matter if the videos are real. "Whether it is a real video, the threat is real," she told reporters. "That is what the President is talking about, that is what the President is focused on is dealing with those real threats, and those are real no matter how you look at it."
During the interview in Davos, Trump again underlined his resolve to fight Islamist terror.
"Radical Islamic terror, whether you like talking about it or not, you look at what's going on in the U.K., you look at what's going on all over the world," he said. "It was done because I am a big believer in fighting radical Islamic terror."
Meanwhile, Trump sought to improve relations between the U.S. and its key global allies and trading partners at the World Economic Forum in Davos.
"I am here today to represent the interests of the American people, and to affirm America's friendship and partnership in building a better world," Trump told about 1,600 people at the forum, according to The Wall Street Journal. Praising the U.S. economy, he said there "has never been a better time" for business to invest in the country.