Trump Campaign Manager Intimidates, Makes 'Sexually Suggestive' Comments Toward Reporters, Sources Say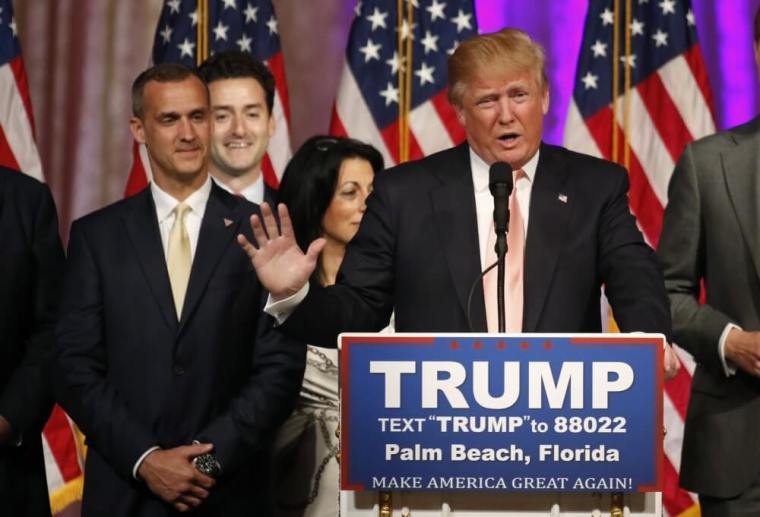 Republican presidential frontrunner Donald Trump's controversial campaign manager Corey Lewandowski has an history of "bullying" and making sexual remarks towards female reporters, a Politico investigation uncovered.
The 42-year-old Lewandowski has been in the media spotlight after he was accused of grabbing Breitbart reporter Michelle Fields' arm and yanking her to the ground after a press conference on March 8. Although the campaign denies that Lewandowski yanked fields to the ground, the incident was witnessed by Washington Post reporter Ben Terris.
The incident led to Fields resigning from the Trump-friendly Breitbart.
In Tuesday's Politico report, over 20 sources who have personally dealt with the Lewandowski during his time with the Trump campaign and when he held his previous job with the Koch-brothers backed Americans for Prosperity say that his incident with Fields last week was far from the first time that he has been rough with reporters.
In fact, the report claims that Lewandowski's inappropriate behavior in dealing with co-workers on the campaign trail has drawn the ire of many of his campaign co-workers, who even "planned a coup against him last month." But since Trump won big in South Carolina and Nevada, his co-workers are no longer planning to oust him.
Besides the widely publicized incident with Fields, Lewandowski is being accused of intimidating and bullying reporters and cussing out co-workers he felt challenged his power in the campaign.
Additionally, sources complained that Lewandowski has made "sexually suggestive" comments toward female journalists.
Reporters who have covered the campaign told Politico about instances where Lewandowski, a former New Hampshire state police officer, used his body to push reporters out of Trump's way and say that Lewandowski acts more like a security guard than a campaign manager.
"He can get really hot headed at times," one reporter said.
One female reporter who said she has received sexual and offensive comments from Lewandowski says his remarks are "completely inappropriate in a professional setting."
According to a report, Lewandowski went on a profanity-laced tirade after organizers for the Conservative Political Action Conference this month in National Harbor refused to give Trump a pass on taking questions after his speech.
Although answering questions from a reporter was the requirement for all the other presidential candidates who spoke at the event, Trump canceled his scheduled appearance.
Also, Lewandowski was accused of violating the rules of engagement at a Fox News presidential debate when he refused to leave the stage during a commercial break.
But even before working for the Trump campaign, Lewandowski's behavior in professional settings raised some eyebrows.
Multiple sources say that when Lewandowski worked for AFP, he threatened to "blow up" the chief financial officer's car because of a late reimbursement check during the 2012 election. However, Lewandowski denied that claim in an email to Politico.
A female employee who worked under Lewandowski at AFP, was verbally assaulted during a meeting with the organization's board in Manhattan in October 2013.
"On the sidelines of a meeting of the group's board in Manhattan, Lewandowski loudly berated the employee for challenging his authority, getting in her personal space and calling her a "c---" in front of a group of AFP employees, including some senior officials, according to three sources who either witnessed the exchange or dealt with its aftermath," the report states.
After leaving AFP to join Trump as his campaign manager, Lewandowski, who was offered $20,000 per month by the real estate mogul, pieced together Trump's campaign team and established a brash reputation of controlling Trump and berating campaign staffers who test his authority.
The tension between Lewandowski and the campaign staff reached a boiling point last month when a number of current and former high-ranking leaders in the campaign planned to deliver a letter to Trump outlining their concerns with Lewandowski, sources said.
"Complicating matters, the businessman is not directly reachable by email and frequently has Lewandowski at his side," the report explains. "So the plan was to deliver the letter in an envelope to Trump's head of security, Keith Schiller, in the days between the South Carolina primary and the Nevada caucuses, with instructions to give it to Trump and no one else."
"But after Trump won big in South Carolina and even bigger in Nevada, the dissenters tabled their plan, believing that Trump would not change course as long as he was having success," the report continued. "Meanwhile, Lewandowski's temper increasingly has manifested itself in clashes beyond the campaign staff."