Trump, Cruz, Kasich All Back Away From Supporting Republican Presidential Nominee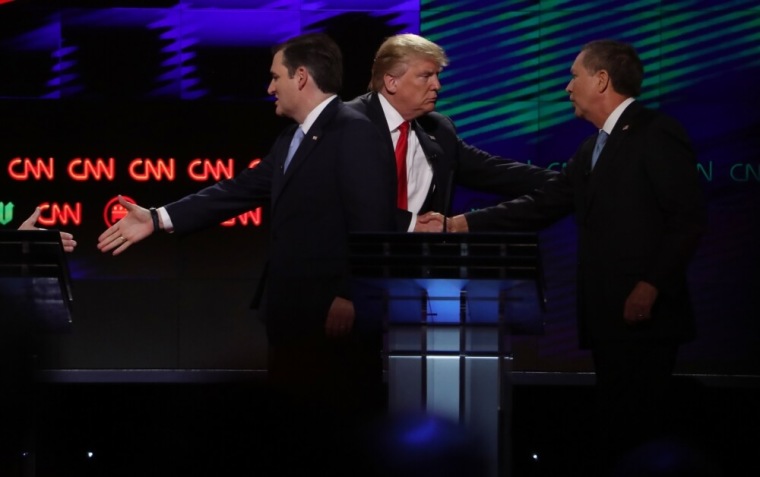 Republican presidential candidate Donald Trump has turned away from his pledge to support the eventual GOP nominee for president, while his rivals, Ted Cruz and John Kasich, both suggested they would strongly have to consider such support as well.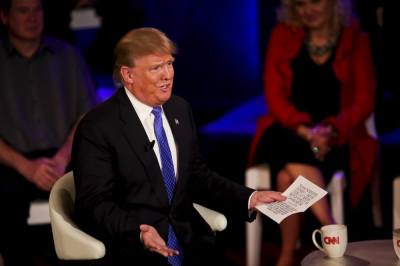 When asked whether he will honor his pledge Tuesday night at a Republican town hall debate hosted by CNN in Wisconsin, Trump said "No, I won't."
The billionaire businessman added that he was taking back his pledge since "I have been treated very unfairly," by what he referred to as the party establishment, including the Republican National Committee.
Trump and Cruz have been locked in a spat in recent weeks over Cruz's wife, Heidi, with Trump warning the Texas senator that he would "spill the beans" on her. Both parties accused each other of personal attacks.
Trump also tweeted a glamour shot of his wife, Melania, juxtaposed to an unflattering photo of Heidi Cruz. The Texas senator responded with the message: "Donald, real men don't attack women. You wife is lovely, and Heidi is the love of my life."
National polls have found that the majority of female registered voters have an unfavorable view of Trump, perhaps due in part to his controversial remarks on women. A recent CNN survey found that as much as 73 percent of registered female voters oppose the GOP frontrunner.
"That gives him a huge number of voters he has to make up from somewhere," said American University political science professor Karen O'Connor. "And I don't know where they will come from."
Cruz referred to this controversy when he answered the question about supporting the eventual nominee, with Trump leading in the delegates race so far:
"I'm not in the habit of supporting someone who attacked my wife and attacked my family. I think that is going beyond the line," he said. "I'm not an easy person to tick off, but when you go after my wife, when you go after my daughters, that does it."
Trump in turn replied: "I don't want his support. I don't need his support. I want him to be comfortable."
Kasich on the other hand said that he regretted raising his arm to indicate he would support the Republican nominee back when the question was asked in the first debate last year.
"Probably shouldn't have even answered that question, but it was the first debate, and what the heck," the Ohio Governor he said.
He added: "If the nominee is somebody that I think is really hurting the country and dividing the country, I can't stand behind them."
Fox News suggested that Trump is "the only candidate with a realistic path to clinching the nomination" due to his 736 amassed delegates so far, but Cruz and Kasich will be looking to halt his momentum and force a contested convention in Cleveland later this year to select a nominee.