Trump Dares 'Very Insecure' Oprah to Run for President, Says Will Expose, Defeat Her
Trump Dares 'Very Insecure' Oprah to Run for President, Says Will Expose, Defeat Her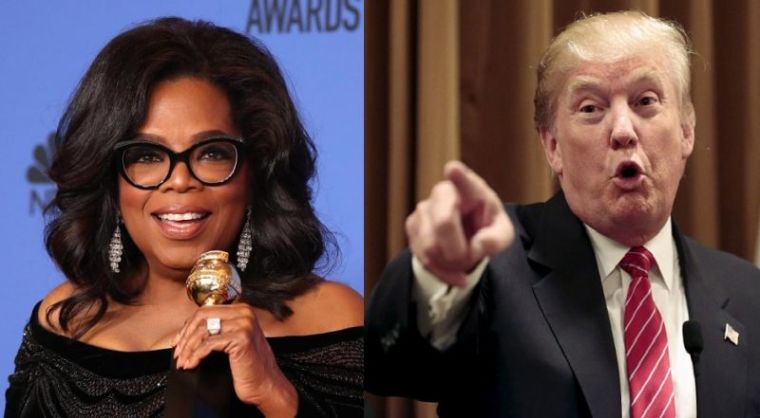 President Donald Trump bashed billionaire media mogul Oprah Winfrey late Sunday night as "very insecure" and dared her to run for president so he could expose and defeat her "just like all of the others."
In a Twitter tirade, Trump lashed out at Winfrey accusing her of "biased and slanted" journalism in an interview she did for CBS's "60 Minutes" in which she hosted a group of 14 voters about his presidency.
"Just watched a very insecure Oprah Winfrey, who at one point I knew very well, interview a panel of people on 60 Minutes. The questions were biased and slanted, the facts incorrect. Hope Oprah runs so she can be exposed and defeated just like all of the others!" Trump tweeted.
Winfrey who had previously interviewed the group of politically divided voters questioned whether the pro-Trump members of the group still supported him in light of allegations of inappropriate sexual behavior and other concerns, such as Trump's alleged "sh**hole countries" comments.
The idea of a possible 2020 presidential run for Winfrey was first floated after her moving speech at the Golden Globes in January where she praised the #MeToo movement.
Winfrey insisted on Sunday's edition of "60 Minutes" Overtime that her speech was never meant to launch her into politics and she had no plans to get into politics unless she gets God's approval.
"Are you kidding me? I was just trying to give a good speech," she said in the interview. "I was looking for a way to express what was going on in this moment in terms of gender and class and race."
"If God actually wanted me to run, wouldn't God kinda tell me? And I haven't heard that," Winfrey said.
Exclusive Op-eds from the Presidential Campaigns
Despite not getting a sign from God that she should launch a presidential bid, Winfrey said a number of wealthy men have been encouraging her to do it.
"I had a lot of wealthy men calling, telling me that they would run my campaign and raise $1 billion for me," Winfrey said. "I think that when you have that many people whose opinions you value coming at you, it's worthy of thinking about."
On Monday, Kevin Ryan, president and CEO of Covenant House, a Catholic charity recognized as the largest privately funded agency in the Americas dedicated to serving homeless youth and ending child trafficking, publicly praised Winfrey for her support to the organization.
"Let me tell you something about @Oprah - she completely refurbished and refurnished @CovenantHouse in Hollywood for teenagers facing homelessness. You know how much it cost? Me neither, because all Oprah said was 'I will take care of it.' And she did. She's a noticer and a doer," Ryan wrote on Twitter.