Oprah Says She Hears From God After Mike Pence Criticized for Listening to Jesus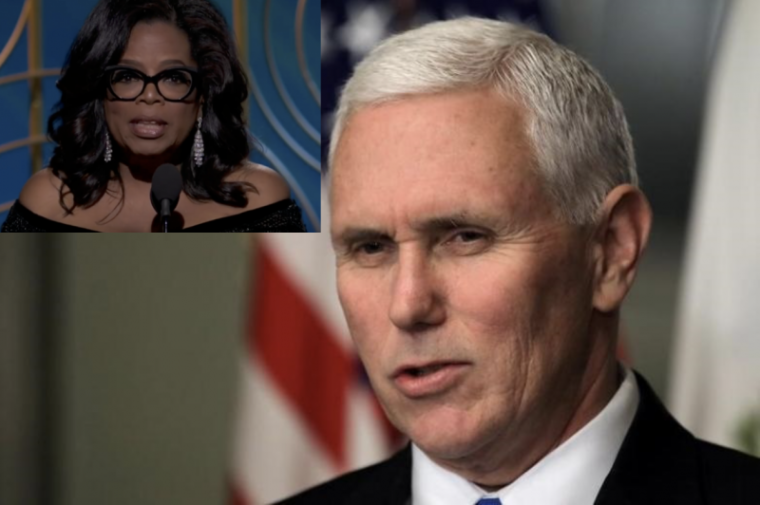 Vice President Mike Pence was criticized earlier this week by Joy Behar on "The View" for saying he listens to Jesus. Now in a recent interview, Oprah Winfrey likewise shared that she too hears from God and will not be running for president unless God tells her to.
ABC News' Joy Behar made controversial comments on "The View" Tuesday claiming it's a "mental illness" to believe "Jesus talks to you." The TV host recanted her statements after many spoke out against the comedian's comments.
Oprah told CBS' "60 Minutes Overtime" that she has been waiting to hear from God on whether to run for president in 2020. Since she has not received guidance on the matter, she said she will not do it despite widespread speculation after her infamous Golden Globes speech.
The popular philanthropist told "Overtime" that she never intended her speech at the Globes to be a presidential pitch.
"If God actually wanted me to run, wouldn't God kinda tell me? And I haven't heard that," Winfrey said.
During their segment on the daytime talk show Tuesday called "hot topics," the ladies of "The View" discussed comments made by former White House staffer Omarosa Manigault Newman, who was the first to criticize Vice President Pence during an episode of CBS' "Celebrity Big Brother."
Omarosa told her housemates that Pence's understanding of Christianity was "scary."
"He's extreme. I'm Christian, I love Jesus, but he thinks Jesus tells him to say things. I'm like, 'Jesus ain't say that,'" Omarosa, who left the Trump administration in December and is reportedly working on a book, said on the show, causing a media frenzy.
In response to Omarosa's comments, Behar said: "It's one thing to talk to Jesus. It's another thing when Jesus talks to you. That's called mental illness if I'm not correct, hearing voices."
On Thursday, Behar attempted to clear up her comments about Pence by saying that she doesn't believe he's mentally ill merely because he's a Christian. She said that would make her, her family members, and fellow "View" hosts also mentally ill, as they are all professing Christians.
"I don't mean to offend people but apparently I keep doing it," Behar quipped. "It was a joke."
Meanwhile, Oprah maintained that God may not have encouraged her to run for office yet, but she has a lot of rich friends that are urging her towards the ticket.
"I had a lot of wealthy men calling, telling me that they would run my campaign and raise $1 billion for me," Winfrey told "Overtime." "I think that when you have that many people whose opinions you value coming at you, it's worthy of thinking about."