Trump Followers and John McCain's Funeral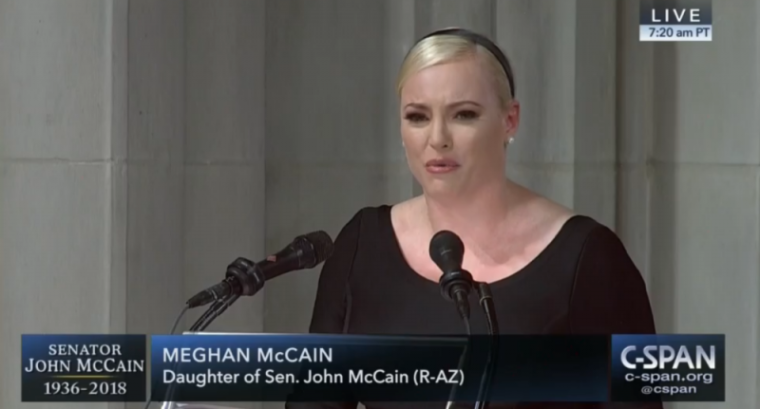 Reactions to John McCain's funeral presented a microcosm of today's political debates, reminding us that one of the main divides isn't conservative vs. liberal, but "establishment" vs. "anti-establishment."
Major media outlets across the political spectrum honored McCain's legacy over the past week. But if you had found certain Trump devotees on the internet over the past week (or if they found you), you'd know how much some despise McCain. And they had no shame in expressing their animosity even as friends, family, and most of the nation grieved the loss of McCain.
My description here doesn't include all Trump supporters but a certain type of Trump loyalist, and certainly not those who backed Trump mostly out of fear of a Hillary Clinton presidency rather than any sort of affection for Trump. These Trump supporters hated that so much attention was given to McCain, whose casket was only the 30th to lie in state at the U.S. Capitol, a testament to his life of service to this nation that he loved.
After live-tweeting the McCain funeral, I was told that I'm mentally ill, racist, a Nazi maggot and a traitor. I was also told that people who honor McCain support Antifa violence against Trump supporters.
The hypocrisy of many mainstream liberals in politics and the media was also evident at McCain's funeral. During the eight years of George W. Bush's presidency, he was repeatedly described as a dunce, theocrat and war criminal. Now that he's part of the anti-Trump crowd (though never explicitly), they speak of him with adoration and affection. Liberal media's coverage of McCain was similar. They adored him when he ran against Bush, hated him when he ran against Obama, and adored him again when he was anti-Trump. These examples, and many others like them, remind us of why Trump supporters have good reasons to not trust the media. But their views on McCain are uninformed. 
McCain was a war hero. He was tortured and spent five years in a Vietnam war prison. When he was offered a chance to go home, because his father was an admiral, he refused until his fellow prisoners could go home too. Yet some Trump supporters have repeatedly shared a rumor that McCain betrayed his country while in the prison camp and was pardoned by President Richard Nixon, a despicable lie.
During her eulogy, McCain's daughter, Meghan McCain, said, "We gather here to mourn the passing of American greatness, the real thing, not cheap rhetoric from men who will never come near the sacrifice he gave so willingly, nor the opportunistic appropriation of those who live lives of comfort and privilege while he suffered and served."
These words were certainly about Trump.
Certain Trump supporters noted the inconsistency in attacking Trump at a funeral amid calls for more civil discourse. There is maybe some truth to that. But the funeral was also exactly what McCain wanted it to be. Why shouldn't the deceased be able to plan their own funeral?
There was also inconsistency in expressing concern for civility after supporting Trump. They praise Trump's crudeness and indecency as "strong leadership," but are personally offended by the slightest criticism of their precious.
While McCain and Trump both have exchanged harsh words over policy disagreements, Trump has even disrespected McCain's service to our country. "He was captured. I like heroes who weren't captured," he said of McCain in 2015. When signing a defense bill named after McCain last month, he refused to mention the honoree. After McCain passed, Trump kept the White House flag at half staff for only a day, until he relented only after much public pressure. And Trump's petty vindictiveness was on further display last week when he refused to answer questions about McCain's legacy. Understanding this history, therefore, it makes sense that Meghan McCain, already an outspoken political writer and commentator, expressed her anger at Trump during her grieving process.
The bipartisanship on display at McCain's funeral has been widely praised, and rightly so. Our founders designed a government that requires broad consensus to implement policy, thus making bipartisanship necessary for a well functioning government. But Trump supporters don't see bipartisanship; they see "establishment." To them, McCain, George W. Bush, Barack Obama and the media are all the "elites" who despise and mock them. They believe critiques of Trump are personal attacks on them. 
Trump was verbally rebuked at McCain's funeral, for sure. So it's understandable that his supporters would be angry at the anti-Trump sentiments expressed. But I hope they will take away a more important message: Meghan McCain's words were true. McCain's funeral was a rebuke of Trump because McCain's life was a rebuke of Trump. His sacrifice and service for this country stand in stark contrast to Trump's life of excess and narcissism.