Trump Gifted With Page From Original King James Bible Before Signing Religious Liberty EO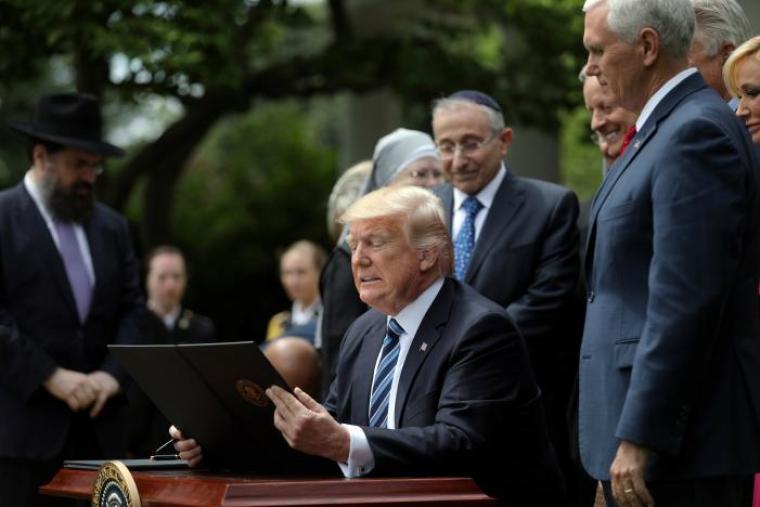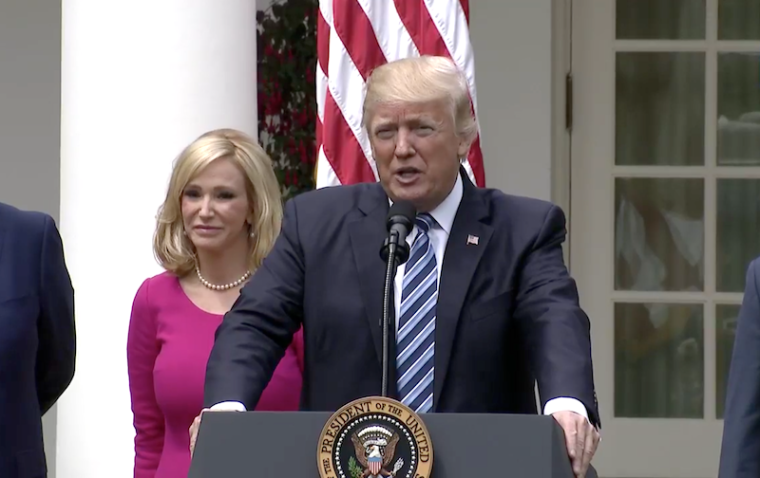 View Photos
Members of President Trump's evangelical advisory board gave him a framed page from the original King James Bible at the White House on Wednesday, ahead of the National Day of Prayer when the president signed an executive order protecting religious liberty.
During the Rose Garden ceremony on Thursday, Vice President Mike Pence spoke about religious freedom and the importance of faith in the United States, introducing Trump as a believer and a man who "loves his family and loves his country with an unshakeable faith in God."
Wednesday night, Trump hosted a dinner at the White House with members of the evangelical advisory board where Dr. Richard Land, president of the Southern Evangelical Seminary and executive editor of The Christian Post, was in attendance.
"It's obvious that he is comfortable around evangelicals; it's obvious that he likes us and he's fascinated by us. I don't think he was around people like us much before he ran for president," Land said in an interview with CP on Thursday.
At the dinner, the advisory board presented Trump with a framed page from the original King James Bible, a gift from the Museum of the Bible which will open on Nov. 17 in Washington, D.C. Trump was "visibly moved," said Land, former president of the Southern Baptist Convention's Ethics & Religious Liberty Commission.
Afterwards, Trump gave the group a tour of the White House, including showing them the Lincoln bedroom and the desk where Lincoln penned the Gettysburg address. He then took them out on the Truman balcony.
The executive order to protect religious liberty was criticized by some notable conservatives who called it a "nothing-burger," arguing that it will do little to curtail actual threats against religious freedom.
Land believes, however, that while it appears the order is more broadly worded, it leaves many of the determinations to the Justice Department and thereby provides a more difficult target profile for the ACLU. He added that Trump's speech indicates that he cares deeply about religious freedom.
Trump's administration also reportedly contains a remarkably high number of conservative, born-again evangelical Christian staffers and cabinet members.
"Personnel-wise, this is the most conservative administration since [President Calvin] Coolidge," Land said.
During the 2016 election many were surprised that Trump, a thrice-married businessmen from Queens, had garnered support from people who identify as evangelicals.
Last summer, Dr. James Dobson, former president of Focus on the Family, referred to Trump as a "baby Christian," one who was not familiar with much of the theology and language of the Christian faith. Pastor Paula White, who opened the Rose Garden ceremony on Thursday and was one of six ministers who prayed at Trump's inauguration, was reportedly said to have led him to Christ.
Land told CP that ministers who've been around Trump tell him that the president is "like a sponge," one who is constantly asking questions about spiritual matters.