Trump Insists Jersey's Muslims Celebrated 9/11 Terror Attacks Despite Criticism
2001 Washington Post Article May Back Trump's Claims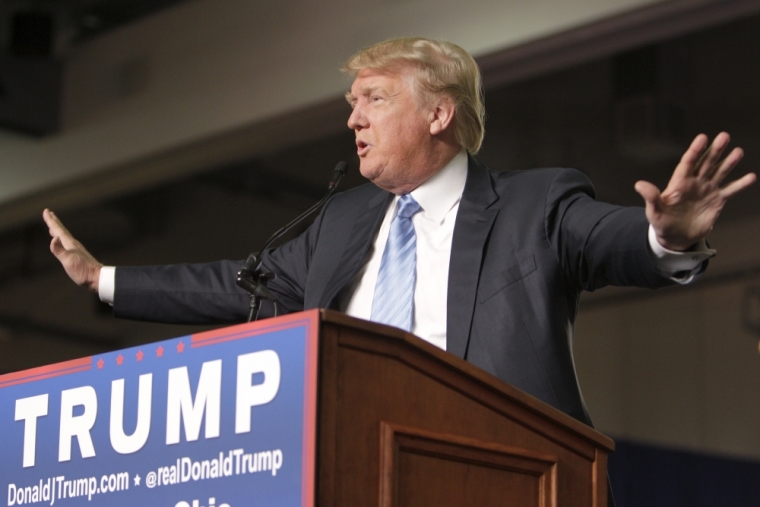 Donald Trump has continued to stand behind his claim that American Muslims in New Jersey celebrated the 9/11 terror attacks on New York, despite widespread media criticism, and denial by both police and Jersey City's mayor.
Trump has claimed that there are "thousands and thousands" of people who cheered in Jersey City as the World Trade Center buildings went down, despite Mayor Seteven Fulop stating that "no one in Jersey City cheered on Sept. 11. We were actually among the first to provide responders to help in lower Manhattan.
On Thursday, Trump linked on his Facebook page to an article that was posted on InfoWars, a website by controversial conservative radio show host Alex Jones, where a Jersey resident claims that the GOP Presidential candidate is "telling the truth."
"I didn't see thousands of Muslims celebrating but I absolutely saw a pocket, perhaps 100, jumping for joy at the sight of the smoke rising from where the Twin Towers used to be," the resident, Carmine Sabia, wrote.
"The funny part of the media-made controversy is that until Trump recalled his experience on that day, these events were a commonly accepted fact by Jerseyans," Sabia added.
CNN reported that Trump's camp continues to stand by his claims, with chief counsel Michael Cohen expressing that the billionaire businessman is "probably right" on the issue.
"There's no way to say that it wasn't," Cohen offered.
"Whether it's thousands and thousands or 1,000 people or even just one person, it's irrelevant. To celebrate this tragedy ... it's wrong," he added. "What the exact number is, I don't know, and I don't think it's relevant. What's important is that there are bad people among us."
New Jersey lawmakers have continued to deny that residents participated in 9/11 celebrations, with fellow GOP presidential candidate and New Jersey Gov. Chris Christie saying he doesn't recall such a thing.
"I do not remember that, and so it's not something that was part of my recollection," Christie told reporters. "I think if it had happened, I would remember it, but, you know, there could be things I forget too."
Fulop added in a Twitter post: "Either @realDonaldTrump has memory issues or willfully distorts the truth, either of which should be concerning for the Republican Party."
The Washington Post noted that it contacted Jerry Speziale, the police commissioner of Paterson, which has a Muslim population of nearly 30,000, but he also denied the claim.
"That is totally false. That is patently false," Speziale said. "That never happened. There were no flags burning, no one was dancing. That is [barnyard epithet]."
The Washington Post noted, however, that an article on its website appeared on Sept. 18, 2001, which suggested there was indeed some police investigation at the time of people celebrating the 9/11 tragedy.
The article from 2001 states that "law enforcement authorities detained and questioned a number of people who were allegedly seen celebrating the attacks and holding tailgate-style parties on rooftops while they watched the devastation on the other side of the river."
The publication explained in response: "Of course, 'a number of people' obviously does not equal 'thousands' — and 'allegedly' indicates there is no video footage or other proof that celebrations actually took place."
It added that the reporters who worked on the article could also not verify whether it was proven that the people questioned at the time were indeed celebrating the attacks.