Evangelical Groups Urge Compassion for Syrian Refugees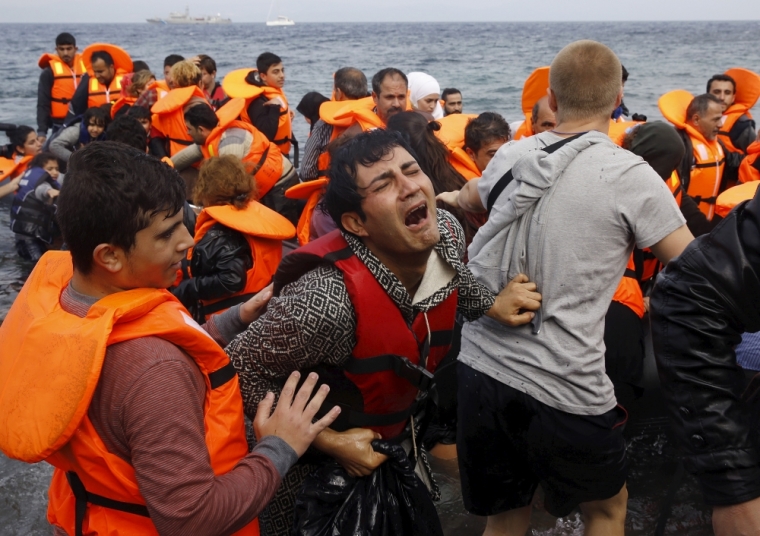 As the national debate over how the United States should handle refugees from Syria gets louder, some Evangelical groups are now urging compassion for the refugees despite strong public opposition to a government plan to welcome thousands stateside.
"Of course we want to keep terrorists out of our country, but let's not punish the victims of ISIS for the sins of ISIS," Leith Anderson, president of the National Association of Evangelicals said in a statement Tuesday.
"We are horrified and heartbroken by the terrorist atrocities in Paris, but must not forget that there are thousands more victims of these same terrorists who are fleeing Syria with their families and desperately need someplace to go," he said.
Since last Friday's terror attacks in Paris, in which some 129 people were killed, a fierce debate over how refugees fleeing Syria should be treated has erupted across the country.
More than half of the nation's governors are against the Obama administration's plan to accept 10,000 Syrian refugees next year because at least one of the suspects believed to be involved in the Paris terrorist attacks entered Europe among the current wave of Syrian refugees.
A Bloomberg Politics national poll released Wednesday also showed that 64 percent of Americans want the U.S. government to stop allowing Syrian refugees or admit the Christian ones as proposed by GOP presidential candidates Sen. Ted Cruz, R-Texas, and former Florida Gov. Jeb Bush.
For frontrunner GOP 2016 presidential candidate Donald Trump, however, if left up to him, not even the Christian refugees would be allowed to enter the country.
"I don't know if you can prove that they're Christian," said Trump at a press conference in Worcester, Massachusetts, according to CNN.
"You have to prove it. How are they proving it?" Trump asked. "I have a real concern that the people who are coming into this country are coming in, some for very bad purposes."
Russell Moore, president of the Ethics & Religious Liberty Commission of the Southern Baptist Convention, told BuzzFeed News on Thursday that he was shocked by the "overheated" rhetoric being used by the high-profile politicians in the debate.
"Donald Trump is saber-rattling about shutting down mosques in this country, which, as somebody who works every day on religious liberty, I'm astounded that we could have a presidential candidate of either party speaking in such a way," said Moore.
"Evangelicals should recognize that any president who would call for shutting down houses of worship … is the sort of political power that can ultimately shut down Evangelical churches."
Moore also slammed the idea of admitting just Christian refugees.
"I don't think we ought to have a religious test for our refugee policy," said Moore. "We really don't want to penalize innocent women and children who are fleeing from murderous barbarians simply because they're not Christians."
Matthew Soerens, U.S. director of church mobilization for World Relief, which is an offshoot of the National Association of Evangelicals and one of nine groups approved by the U.S. State Department to resettle refugees, told NPR: "Jesus himself was a refugee. He fled as a small child to Egypt when there was a tyrannical government threatening his life. So as Christians we don't really have a choice but to welcome refugees."
Bishop Eusebio Elizondo, chairman of the United States Conference of Catholic Bishops' Committee on Migration, also issued a statement on Syrian refugees during the Bishops' annual General Assembly in Baltimore, Maryland, on Tuesday.
"I am disturbed … by calls from both federal and state officials for an end to the resettlement of Syrian refugees in the United States. These refugees are fleeing terror themselves — violence like we have witnessed in Paris. They are extremely vulnerable families, women, and children who are fleeing for their lives. We cannot and should not blame them for the actions of a terrorist organization," he said.
"Instead of using this tragedy to scapegoat all refugees, I call upon our public officials to work together to end the Syrian conflict peacefully so the close to 4 million Syrian refugees can return to their country and rebuild their homes. Until that goal is achieved, we must work with the world community to provide safe haven to vulnerable and deserving refugees who are simply attempting to survive. As a great nation, the United States must show leadership during this crisis and bring nations together to protect those in danger and bring an end to the conflicts in the Middle East," he added.