Trump Invites Controversial Philippines Leader Duterte to White House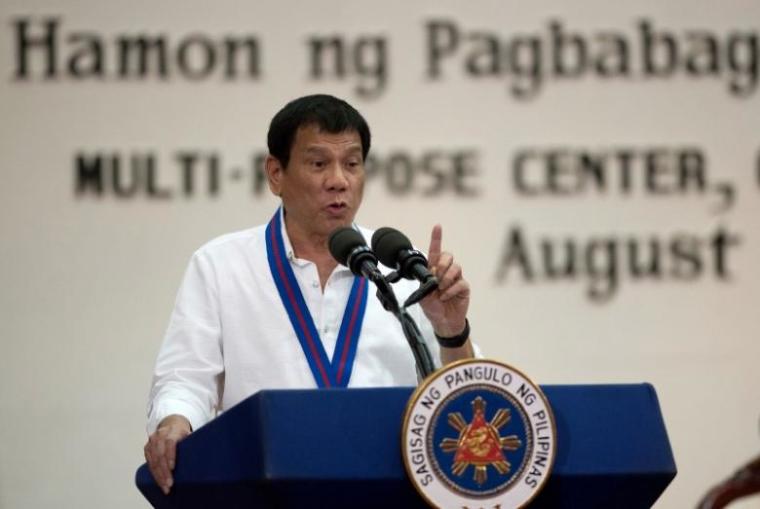 President Donald Trump has invited to the White House President Rodrigo Duterte of the Philippines, who is known for using vulgar language and who recently called on authorities and citizens in his country to kill drug users and dealers on sight, which led to killing of thousands of people.
"It doesn't mean that human rights don't matter," a Trump aide sought to clarify.
The White House said late Saturday that Trump had a "very friendly conversation" with Duterte. He invited Duterte, who has called President Obama a "son of a whore" and Pope Francis a "son of a whore," to discuss "the importance of the the United States-Philippines alliance," according to Fox News.
Trump's chief of staff, Reince Priebus, said Sunday the alliance was aimed at countering the military threat posed by North Korea.
"The purpose of this call is all about North Korea. It doesn't mean that human rights don't matter," Priebus told ABC's "This Week."
"But what it does mean is that the issues facing us developing out of North Korea are so serious that we need cooperation at some level with as many partners in the area as we can get to make sure we have our ducks in a row," Priebus explained. "There is nothing right now facing this country and facing the region that is a bigger threat than what's happening in North Korea."
Human rights groups criticized Trump's invitation to Duterte.
"Celebrating a man who boasts of killing his own citizens and inviting him to the White House, while remaining silent on his disgusting human rights record, sends a terrifying message," John Sifton, the Asia director of Human Rights Watch, said. "By effectively endorsing Duterte's murderous 'war on drugs', Trump has made himself morally complicit in future killings," he said.
However, Priebus said, "If we don't have all of our folks together — whether they're good folks, bad folks, people we wish would do better in their country, doesn't matter, we've got to be on the same page."
Trump's invitation to Duterte doesn't mention any date but the two are expected to otherwise meet in November at the East Asia Summit and the U.S.-ASEAN Summit.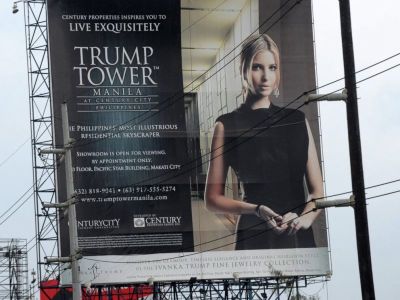 Speculations surfaced Sunday that the meeting was tied to Trump business dealings after Democratic operative Scott Dworkin posted a photo of a billboard in the Phillipines for Trump Tower Manila featuring Trump's daughter Ivanka Trump. 
"Ivanka also sells her jewelry there," he added.
MSNBC host Greta Van Susteren posted the photo on Twitter with the comment, "If this is real, Trump family needs this taken down now — and explain how it happened."
Duterte started his controversial drug war soon after taking office in June 2016. He urged citizens with guns to join the war against drug dealers by killing them.
"Please feel free to call us, the police, or do it yourself if you have the gun – you have my support," he was quoted as saying at the time. In case citizens face any resistance and threats from a drug dealer, "you can kill him… Shoot him and I'll give you a medal," he said.
Police earlier said they had killed 1,105 drug suspects, and another 2,035 had been murdered by unknown assailants, according to human rights groups, as a result of his campaign promise to kill 100,000 people to deal with illegal drugs.
Last September, Duterte said, "Even if I wanted to, I cannot kill them all," of his campaign promise to eradicate illegal drugs within six months. "I did not realize how severe and how serious the drug menace was in this republic until I became president," said Duterte.
The Philippines is a Roman Catholic-majority country but the church does not approve of President Duterte's call for violence.
Duterte, who says he believes in God but rejects organized religion, recently claimed he heard God's voice telling him to stop swearing or else his "plane will crash in midair."
"While on up there on my way here, I heard a voice telling me to stop swearing or the plane will crash in midair, and so I promised to stop," Duterte told reporters at Davao International Airport in October 2016. "There is always a time. A time to be foul-mouthed. I don't like anybody reading my mind. It's all calibrated, it's always timing. Watch out for one thing, that's what I've learned, miscalculation."