Philippines President Says He Was Abused by Catholic Priests, Church Is Full of Feces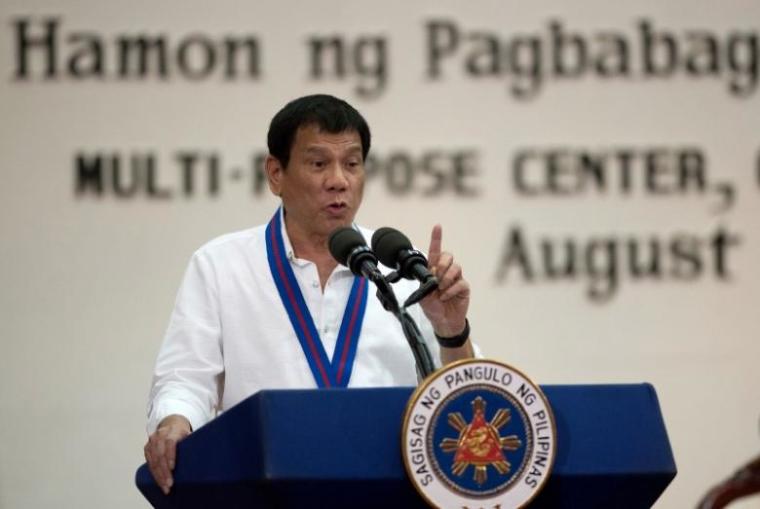 Sharp-tongued Philippines President Rodrigo Duterte, who once called former president Barack Obama the son of a whore, ripped into the Catholic Church Tuesday and dismissed its officials as corrupt and full of feces.
The 71-year-old Duterte, who unleashed a tirade against the Church for preaching against extrajudicial killings, according to Rappler, also accused Catholic priests of abusing him and several other members of his administration when they were teenagers.
"I challenge you now, I challenge the Catholic Church, you are full of s--- ... and you all stink too, corruption and all," he said. "I'll tell bishops, their conferences, we have the same stink, women. You are full of corruption."
During his tirade, Duterte raised the issue of sexual abuse of young men by the Catholic Church, which he claims he also experienced as an Ateneo de Davao High School student.
"To anyone who is Atenean, wasn't there a mass every Friday, then confession? The priests would take us, believe me. In my Cabinet, I have two or three former classmates. When we talk — I said, yours must be bigger because you were touched by priests every day," he said.
He also warned his audience about the "smelly" hands priests used to give Holy Communion.
"They hold the Host, you should say, 'Your hands, why does it smell funny?' They hold all sorts of things," he said.
He alleged that Novaliches Bishop Emeritus Teodoro Bacani, whose secretary accused him of sexual harassment in 2003, of having "two wives."
For those who required proof of the Catholic Church's corruption, Duterte cited a book called Altar of Secrets, written by the late Rappler investigative journalist Aries Rufo.
In the book, Rufo, who died in 2015, paints the Catholic Church as cloaked in secrecy. He also highlights it as an organization that hides the sexual and financial wrongdoings of its bishops and priests without any form of punishment.
He suggested he might soon write his own book about the Church, titled "Hypocrisy."
He said he once chided the Church for asking the government for a Pajero car but they still took it when offered anyway.
"Shouldn't you be ashamed of yourselves?" he asked. "That's so expensive and so many people have nothing to eat. ... Son of a b----, the jerks accepted it."
Duterte called on local bishops to resign with him since they are both guilty of wrongdoing.
"I challenge all the bishops, let's resign at the same time, okay? I'll go first. I will deliver my letter of resignation on bended knees," said Duterte. "I'll make you a deal: read this book and if I feel all of you have read it, then go back to me and tell me I blasphemed my religion and I lied, I will resign."
Last October, Duterte threatened to cut ties with the U.S. in favor of Russia and China and told Obama to "go to Hell."
"Respect is important," he said, according to CNN. "If this is what happens now, I will be reconfiguring my foreign policy. Eventually I might, in my time, I will break up with America. I'd rather go to Russia and to China."
"Mr. Obama, you can go to Hell. ... The EU better choose purgatory," he added.
Warning: The video below contains offensive language.