Trump Proudly Claims 'Mantle of Anger,' Doubles Down on Muslim Immigration Ban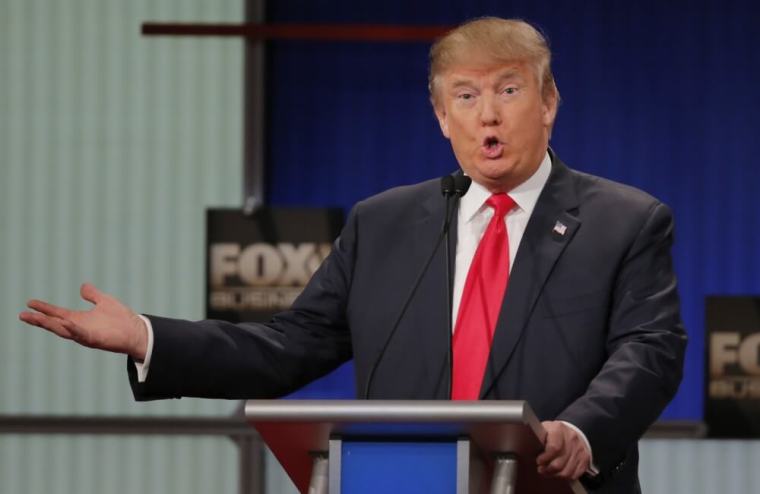 Billionaire real estate mogul and Republican presidential candidate Donald Trump proudly declared that he assumes the "mantle of anger," then proceeded to double down on earlier comments demanding a temporary ban on all Muslim immigration.
Tuesday night South Carolina Governor Nikki Haley mentioned in her response to the State of the Union that angry voices were driving the Donald Trump campaign.
At a debate held at the North Charleston Coliseum and Performing Arts Center in South Carolina on Thursday evening, the Republican frontrunner responded, "I gladly accept the mantle of anger."
"But [Haley] did say there was anger. And I could say, oh, I'm not angry. I'm very angry because our country is being run horribly and I will gladly accept the mantle of anger," said Trump.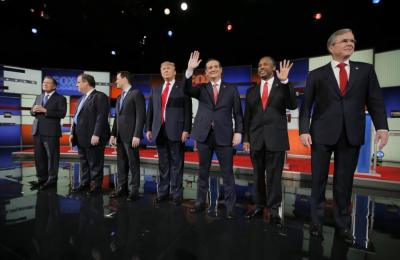 "Our healthcare is a horror show. Obamacare, we're going to repeal it and replace it. We have no borders. Our vets are being treated horribly. Illegal immigration is beyond belief. Our country is being run by incompetent people. And yes, I am angry."
Later in the debate moderator Maria Bartiromo asked Trump if he would reconsider his position on having a temporary ban on Muslim immigration, to which Trump said no.
"We have to get down to creating a country that's not going to have the kind of problems that we've had with people flying planes into the World Trade Centers," argued Trump.
"We have to find out what's going on. I said temporarily. I didn't say permanently. I said temporarily. And I have many great Muslim friends. And some of them, I will say, not all, have called me and said, 'Donald, thank you very much; you're exposing an unbelievable problem and we have to get to the bottom of it.'"
Trump's comments came as he was part of the main stage set of Republican candidates at the Thursday evening debate hosted and moderated by the Fox Business Channel.
In addition to Trump, other GOP hopefuls on the stage were U.S. Senator Ted Cruz, U.S. Senator Marco Rubio, Dr. Ben Carson, New Jersey Governor Chris Christie, former Florida Governor Jeb Bush, and Ohio Governor John Kasich.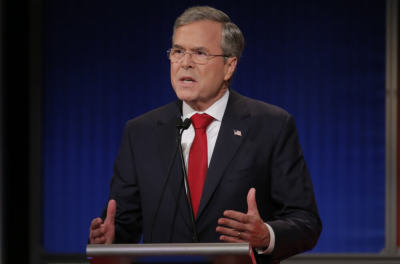 "The next Commander in Chief is standing on this stage," said Sen. Cruz in his opening remarks, eliciting cheers from the audience.
Former Arkansas Governor Mike Huckabee, former Hewlett-Packard CEO Carly Fiorina, and former U.S. Senator Rick Santorum debated earlier in the evening as part of the undercard debate.
Trump's doubling down on his plan for a ban on all Muslim immigration did not come unopposed by the other candidates on the main stage.
Jeb Bush denounced the Trump ban as counterproductive to United States' efforts abroad to build a coalition to battle Islamic States and other terrorist groups.
"I hope you reconsider this, because this policy is a policy that makes it impossible to build the coalition necessary to take out ISIS. The Kurds are our strongest allies. They're Muslim. You're not going to even allow them to come to our country?" said Bush to Trump.
"The other Arab countries have a role to play in this. We cannot be the world's policeman. We can't do this unilaterally. We have to do this in unison with the Arab world. And sending that signal makes it impossible for us to be serious about taking out ISIS and restoring democracy in Syria."
Other candidates, including Gov. Kasich, stressed their support for banning Syrian refugees for security reasons but not all Muslim immigrants.
"I've been for pausing on admitting the Syrian refugees. And the reasons why I've done is I don't believe we have a good process of being able to vet them. But you know, we don't want to put everybody in the same category," stated Kasich.
"If we're going to have a coalition, we're going to have to have a coalition not just of people in the western part of the world, our European allies, but we need the Saudis, we need the Egyptians, we need the Jordanians, we need the Gulf states."
The undercard and main stage debates for the Republican Party came as the influential first-in-the-nation caucus in Iowa is nearly two weeks away, on Feb. 1.