Trump Mocks Obama with Footage of ISIS, Paris Terror, Plane Crash
GOP Presidential candidate Donald Trump has posted a video seemingly mocking President Barack Obama by inter-cutting the President making funny faces with footage of the Paris terror attacks and Islamic State militants.
Trump posted the 15-second video on Facebook on Monday with the single comment "We need a great leader-now," and by Tuesday morning it had been viewed over 600,000 times.
The video inter-cuts clips of Obama smiling and laughing with various footage related to IS, including militant training videos, threats being made against the U.S. and Europe, pictures of the downed Russian airliner over Egypt, and footage from the night of November 13 in Paris, when IS attackers killed 130 people.
Audio clips of Obama talking about IS are heard over the terror footage, including a one quote after the Paris attacks, in which the President called the militants "a bunch of killers with good social media."
The video concludes with Trump's campaign slogan "Make America Great Again."
The Republican frontrunner has criticized Obama on a number of occasions over what he believes is weak policy against the terror group, and has said that if he were elected president, he would "bomb the [expletive] out of them."
"A lot of bad things have been happening over the last little while. But it's gone on and on. And weakness has shown that when you're weak and ineffective, bad stuff does happen. You know that. That's what we're seeing," Trump added about America's foreign policy.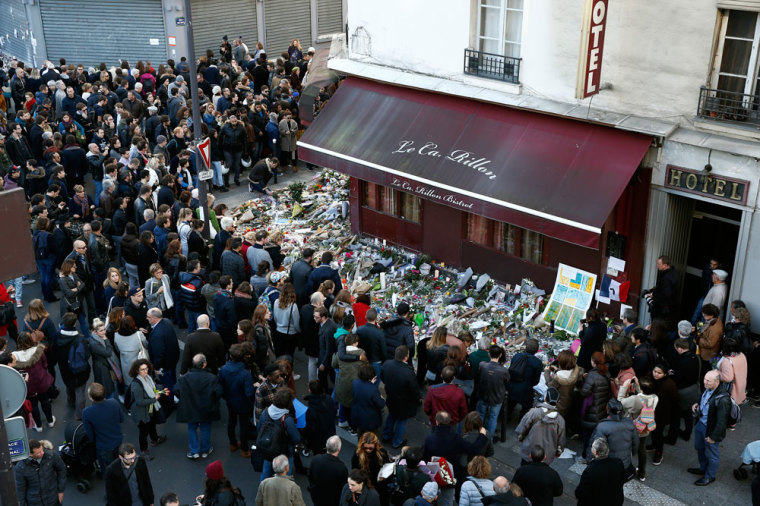 "I just left a certain little thing where I was watching our president talking. Boy, he does not get it. He doesn't get it."
Obama has in the past accused Trump of anti-immigration rhetoric for wanting to deport illegal immigrants from America.
"It's the job of leaders not to play into that sentiment," Obama said in an interview in November. "We don't want, I think, a president or any person in that position of leadership to play on those kinds of fears."
Trump has been criticized for his rhetoric on a number of issues, including by Arizona Sen. John McCain, who argued that the billionaire businessman is turning Muslims around the world against America.
McCain said on Sunday that Trump's comments about Muslim people "has an interesting effect of turning Muslims all over the world against the United States of America," referring in part to the GOP candidate's continued claims that Jersey City Muslims celebrated the 9/11 terror attacks.
A new Reuters/Ipsos poll on Monday showed that while Trump remains the Republican frontrunner, he has been losing some momentum, as support for his campaign diminished by 12 percent compared to previous polls.
While Trump enjoyed 31 percent of support in the latest Reuters poll, retired neurosurgeon Ben Carson received 15 percent of the backing, with Florida Senator Marco Rubio and Texas Senator Ted Cruz tied for third place at eight percent each.